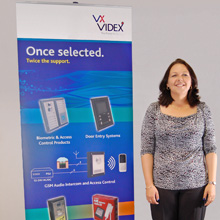 Sian Luxton has over eight years of experience in the security industry
Sian Luxton is the New Account Manager for Videx Security. Sian has a security industry background, having worked with door entry systems and access control for the past eight years in various roles within her previous organisation. Her new role will be to develop new business for the full Videx door entry and access control product range with security product distributors, wholesalers and installers.
Sian will cover the whole of the UK and will help to strengthen the Videx sales support team including Regional Sales Managers, Sales Estimators, Special Projects Manager and Training Manager. Sian commented: "I'm very excited and looking forward to a new challenge in my career. I believe Videx have a strong offering in both our product range and the support we offer and I am keen to promote this to the industry." She can be contacted on mobile 07796 954 828, E-mail sian.luxton@videx-security.com
"The appointment of Sian underlines Videx Security's commitment to its distributor network and the support provided to assist in winning new customers," says Neil Thomas, Videx National Sales Manager.
Download PDF version