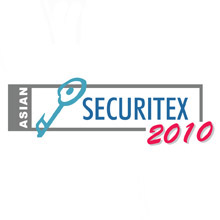 Over 700 security companies will be exhibiting at Asian Securitex 2010 this June in Hong Kong
Co-locating with Asian Building Interiors 2010, Asian Building Technologies 2010 and Asian Elenex 2010, the biennial tradeshow is branded as Build4Asia - the most comprehensive 4-in-1 sourcing platform in Asia. It will employ the largest ever exhibition space of 12,000 sqm and bring together the well-known manufacturers, suppliers, distributors, retailers, architects, contractors and more from all over the Asia and beyond.
Recognised as the region's one of the most distinguished events for the security and fire protection industry, the 11th edition of Asian Securitex presents the latest equipment and technologies in the industry and is expected to attract 15,000 regional industry professionals to participant. Over 700 international exhibitors including Samsung, Sony, Mitsubishi, Maxwell Electrical Asia, Chubb and more will present a wide variety of exhibits includes access control systems, biometrics, CCTV & remote monitoring control systems, door phones / videophone, locks / locking equipments / safes, RFID systems, security doors, gate & shutters, smart cards and many more.
Asian Securitex 2010 Conference
Besides making the exhibition a platform for trading, sourcing and exhibiting, the organizer will partner with several representatives and industry leading minds in conducting a series of conference which will explore the latest trends and challenges facing the industry.
Asian Securitex 2010 Conference - titled Security in Emerging markets - China Focus, will be held on 2 - 3 Jun 2010 alongside the Asian Securitex 2010 tradeshow. This major international security event convened a Conference Advisory Panel comprises of ASIS International - Hong Kong Chapter, Asian Professional Security Association (APSA) - Hong Kong Chapter, Hong Kong Police - Crime Prevention Bureau, Hong Kong Security Association (HKSA), International Professional Security Association (IPSA) - Hong Kong Chapter and is supported by Shenzhen Security & Protection Industrial Association. Over 300+ regional government officials, law enforcement officers, security managers and other security industry professionals are expected to unveil some timely topics evolving the security industry's opportunities and challenges in the emerging markets.
Build4Asia 2010, with its not-to-be-missed conference and events, is the year's most exciting gathering of security experts. Visitors, exhibitors and conference delegates will enjoy a networking opportunity unrivalled within the security sector.
Download PDF version