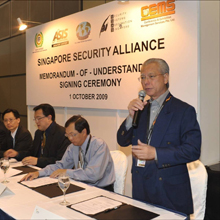 Edward Liu, Managing Director of CEMS gives his address at the Safety & Security Asia 2009
Today marked a momentous occasion for Singapore's security industry with the formation of Singapore's very first security alliance. Spearheaded by five organizations, the Singapore Security Alliance (SSA) is a joint initiative formed to forge closer ties among the organizations to better promote the well-being of Singapore's security industry and its members. This alliance is anticipated to introduce new lines of communication and facilitate coordination among the different bodies of the security industry, thus upping the level at which safety and security is reinforced in Singapore.
In conjunction with the 10th Safety & Security Asia 2009 and the 16th APSA International Conference 2009, a memorandum of understanding was signed to commemorate the formation of the SSA. Present at the signing were:
- Mr. Edward Liu, Managing Director, Conference & Exhibition Management Services Pte Ltd (CEMS)
- Mr. Joseph Tang, President, Asian Professionals Security Association (APSA) Singapore Chapter
- Mr. Anthony Lee, Honorary Chairman, American Society for Industrial Security International (ASIS), Singapore Chapter
- Mr. Ivan Chin, Director, International Society of Crime Prevention Practitioners
- Mr. Dennis Lim, President, Security Systems Association of Singapore
"The formation of SSA marks a milestone in the history of the security industry. CEMS is very proud to be the central fulcrum that launched this significant alliance," says Edward Liu. He adds: "We are excited to see this new alliance bring the local security industry closer and to a higher level of understanding, all for the betterment of Singapore's safety."
Download PDF version