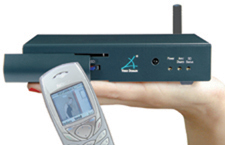 Video Domain Technologies invites you to visit ASIS 2006, booth #1459 for demonstrations of our new technologies that will revolutionize the security industry, and even our lives!

OVS (Offsite Visual Storage) is an advanced Visual Recording & Management tool, and a finalist in the IFSEC 2006 Awards (IP Security/Communication Category).
OVS is Video Domain Technologies' advanced Visual Recording & Management Solution for managing business/home efficiently, from anywhere, at anytime. OVS is a multi-solution that provides Remote Digital Video Recording, Video Alarm Verification, Offsite Storage of Videos and Virtual Guard Tours. Utilizing event-driven MemoCam technology, video clips of "events" are automatically transmitted to an offsite storage server. The solution is affordable, reliable, secure & user-friendly.
OVS changes Digital Video Recording as we have known it until now
During regular hours, OVS can be used as a remote Digital Video Recorder. Recording takes place whenever there is movement in a selected area of interest. The recorded images are automatically sent to a remote video storage server at the secure, tamper-proof environment of the service provider.
You can check these video clips at your convenience by logging onto the server from anywhere in the world, 24/7, via Internet. They can also be automatically sent to your e-mail and/or cell phone.
OVS for Instant Video Alarm Verification
After hours - or when you're away from home, OVS can be used for Video Alarm Verification.
When there is movement in a selected area of interest, the recorded video clips are automatically sent to the storage server as described above. In parallel, you are sent notice of an alarm by e-mail with image attachment and/or SMS, and can view the video clips to visually verify the alarm and take the necessary action.
Optionally, an alarm signal is sent in parallel with the video clips to your alarm monitoring station, where the Operator can immediately visually verify the alarm and take the appropriate action.
Video Domain's MemoCam® D-V58 goes cellular!
D-V58/CELL is a tiny, mobile solid-state DVR that doesn't require daily maintenance, and is easy to set up and use. As it can be battery powered and utilizes existing cellular wireless infrastructure, it is ideal for use in remote critical locations without any power sources or infrastructure. It records on a removable SD card and the recorded images can be viewed on any PC/pocket PC.
Advanced GPRS Cellular Technology
The D-V58/CELL has been developed utilizing the most advanced GPRS Class 12 cellular platform available today. It covers 900/1800/1900 frequencies for worldwide use.
More on Video Domain Technologies
Download PDF version