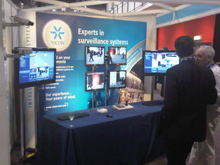 Vicon offers fully engineered solutions at Vicon shopping centre
Vicon
report that there is still significant interest in CCTV from shopping centres and retailers despite pressure on capital expenditure brought about by the current tough economic climate.
Vicon was an exhibitor at the BCSC's Shopping Centre Management Conference which took place on 3rd-4th March at ACC Liverpool. According to Richard Allen-Miles, Vicon's Sales Director for UK and Ireland, visitors to the Vicon stand were particularly interested in the benefits that an integrated networked IP CCTV solution can deliver. "Shopping centre managers want to ensure customers can enjoy their shopping experience and part of that process is to create a safe a secure environment," said Richard. "In these challenging financial times it is also absolutely vital that centres' investment in CCTV generates real tangible results. We were able to demonstrate that the very latest video management technology offers improved control room efficiency, enhanced security, and makes life extremely easy for security personnel to observe and react to any criminal activity or health and safety incidents."
With the release of ViconNet version5, shopping centre and retailer customers now have access to incredibly powerful and easy to use 'open platform' video management software. ViconNet 5's fully integrated video analytics provides added value by empowering control room operators to quickly identify suspicious activity and retrieve pre-recorded video evidence.
The British Council of Shopping Centres BCSC is the voice of the retail property industry and as such look to promote retailed regeneration and growth. This was reflected by the speakers at the conference who addressed a range of topical and important issues.
Download PDF version
Download PDF version