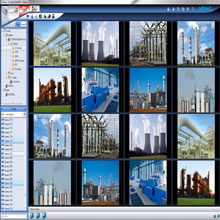 Verint, a specialist in networked IP video solutions, exhibited its next-generation Nextiva IP video portfolio
Verint
, a worldwide leader in networked IP video solutions, exhibited its next-generation Nextiva IP video portfolio including a new Physical Security Information Management (PSIM) platform,
Nextiva Video Management Software
and Nextiva Business Analytics.
Nextiva PSIM


Verint's Nextiva PSIM
leverages information from various standalone security and public safety systems ranging from access control, video, intrusion, fire and public safety to first responder and other mobile device systems, allowing multiple systems to be managed from one single location. When integrated with Nextiva Video Management software, security personnel are able to use the Nextiva PSIM technology to efficiently collaborate, correlate, and analyse information from multiple systems, and determine the appropriate responses based on pre-defined rules, and refine the rules and processes on an ongoing basis.

Nextiva Video Management Software


Verint's Nextiva Video Management Software (VMS) comprises a comprehensive video management solution with integrated analytics specifically designed for retail, financial, enterprise and national critical infrastructure applications. The latest enhancements to its Nextiva VMS include: an intuitive user interface optimised for video visualisation and operator efficiency; an ultra-thin web client for remote viewing; and advanced setup tools to streamline deployment and maintenance. Its distributed open architecture, breadth of supported integrations, and emerging industry standards readiness make Nextiva the platform of choice for large decentralised environments
Nextiva Business Analytics
Verint's Nextiva PSIM leverages information from various standalone security and public safety systems
Nextiva Retail Traffic Analytics
adds value to video security investments, transforming loss prevention and security solutions into marketing and merchandising resources. Verint's powerful retail application provides more detailed insight than simple counting technologies such as infrared, thermal and even manual observation. Recent enhancements to the application include state-of-the-art queue monitoring and people counting analysis tools to help drive sales and customer satisfaction, ensure proper staffing and scheduling, measure traffic patterns, and provide a holistic view of retail operations.
Download PDF version