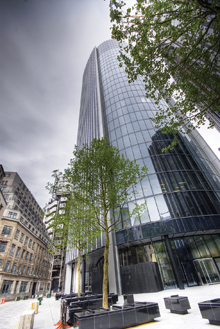 Universal's recent fully IP-addressable installation at the Willis Tower in the capital received special praise
Universal Security Systems has won a 2008 Security Excellence Award in the category of Large Security Installer of the Year. The award, which attracted several strong entrants and previous winners, recognises companies that have shown the highest standards of workmanship and customer support in the industry and Universal were commended by judges on their innovation and technical excellence at three sites in London.
The panel's criteria included meeting customer expectations by recognising the benefits of new solutions, and Universal's recent fully IP-addressable installation at the Willis Tower in the capital received special praise. Originally an analogue solution, Universal re-engineered the site to a fully IP-based solution that saved money on the original design and offered greater flexibility.
Feedback on this project from Nicholas Innel, Chief Security Officer at architect Sir Norman Foster's 26-storey landmark skyscraper in the financial district of London, stressed that Universal staff communicated well and delivered within deadline and budget. The 125-metre tower features a distinctly stepped and curved façade that is set to become a London landmark and the office space houses a prominent insurance company.
Universal underlined its commitment to open protocols and converging technologies here by creating a resilient IP camera network of 100 Panasonic units based on building blocks common to the tower's existing IT infrastructure. This approach was not only the correct solution technically but was also environmentally sound, an important factor in Universal's working methods.
Other installations evaluated by the judges included work for Arup and Partners. One of the top global security consultants who have won Security Excellence Awards themselves on several occasions, Arup has unrivalled experience of working with major installers. The choice of Universal by such a discerning client to work on a new London base is a ringing endorsement of Universal's use of technology and the rigour of its working methods.
A focus of Universal's approach is the permanent on-site presence of an engineer known as a direct support services technician. Crucially, this engineer will not only be the client's reference point for technical matters but will have business acumen to ensure that he or she understands the end-user's trading conditions and real-life commercial objectives.
Collecting the award at the Hilton Hotel in London, James Crouch a director of Universal, said: "I'm thrilled that by recognising us in this way the panel has endorsed our commitment to customer care as well as our success in using new technology."
Download PDF version