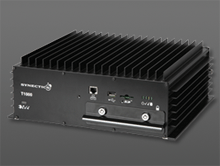 t-1000 - 'The intelligent digital video recorder (DVR)'
Synectics Mobile Systems Ltd, (Synectics)
a leading supplier of integrated high-level surveillance solutions for critical transport markets is showcasing its cutting-edge solutions at the
Transport Security Expo 2010
.
Taking place from 14th - 15th September, at Olympia, London, this promises to be an exciting event for the company as they present their ground-breaking products and solutions, including the cost-saving Genius, journey data management and t-1000 intelligent DVR devices.
Visitors to stand E11 will also have the chance to enter a fantastic competition to win a hair-raising driving experience courtesy of Synectics.
Graham Jones, Divisional Director of Synectics Mobile Systems, expressed his enthusiasm at the forthcoming event:
"We are very excited to be showcasing so many innovative products specifically tailored for a wide variety of applications within the Transport industry. With our systems currently in use and proving highly successful on the DLR, Jubilee London underground line and Heathrow's Terminal 5, we are highly enthusiastic to show those within all areas of Transport what cutting-edge solutions we can provide for their surveillance needs."


In addition, Synectics Mobile Systems Managing Director, Andrew Prince presented a workshop on 14
th
September entitled 'Getting a real return on transport security systems', which guarantees to offer a unique insight into how companies can maximise cost benefits through their surveillance systems.
Below are some of the key products that Synectics is showcasing at the event:
Genius - the onboard vehicle journey analysis and data management system - is proven to reduce fuel consumption by up to 6% providing a direct ROI for every unit installed. Genius provides fleet, vehicle and driver performance monitoring, assisting customers with managing and reducing their operational costs. The system can be used to improve driver awareness, passenger comfort and safety, and aid in reducing the occurrence of driver/passenger injury claims.
The t-1000 - 'The intelligent DVR' offers so more much than video digital recording; it has the power of the latest PC built in. Specifically designed to fit to any transport vehicle anywhere, the t-1000 not only boasts high resolution video image recording, it can also perform a 'health check' of its functionality and other systems within the vehicle. Ruggedised shock resistant hard drives and solid state back-up eliminates data loss even in catastrophic incidents meaning the operator can be aware of what was and is happening at all times.
Synectics' award-winning Synergy™ security management software for centralised command and control is an innovative platform that ties together traditionally disparate systems such as access control, intruder detection and video systems, while managing the notification and workflow associated with system events. Synergy integrates with a wide range of IP, digital and analogue video systems, direct control PTZ devices, as well as monitoring, alarm and reporting applications, and video analytics.
Download PDF version