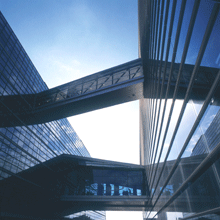 Siveillance Fusion - Sophisticated technology for comprehensive security
Siemens
has recently won a contract to provide Siveillance™ Fusion security at a prestigious development on one of the most prized pieces of real estate in Kuala Lumpur, Malaysia. Siveillance™ Fusion is the integrated security management solution from Siemens that uses open architecture and protocols to bring together every aspect of security into a single homogeneous system. The system enables the complete interoperation of access control, video surveillance, intrusion detection, network video recording and other security sensing systems - on a single platform. It is perfectly suited to deliver centralised risk management, security control and coordinated responses to evolving security needs on challenging sites all around the world.
This customer site is an exclusive residential and commercial development set amidst privately owned parkland. Planned to become an iconic development within Kuala Lumpur's prestigious city centre, it includes several condominium towers, a serviced apartment building, a luxury hotel and office towers. There are a number of niche retail outlets around the development and a 1.5 acre landscaped park at its heart. Not surprisingly, the development is considered a high security risk because of the desirability and value of the properties and the lifestyle that residents and visitors will enjoy. The developer wanted a system that was expandable and future-proof and turned to Siemens as a manufacturer and systems integrator to provide it.
The contract involved Siemens Building Technologies Division supplying, installing and commissioning networked video surveillance, access control, integrated security access and visitor management systems. It also included the installation of elevator control, panic sirens, door status monitoring, vehicular access control and offline guard-tour systems. Most importantly, the sub-systems were all seamlessly integrated by a Siveillance Fusion Security Management Station from Siemens.
User-friendly, flexible and scaleable, Siveillance™ Fusion has been developed for sites requiring integrated solutions. It combines applications and devices into one process-driven solution and provides centralised security management, administration and alarm handling. It gives a complete overview of all operations, with all applications dynamically presented on a single screen, allowing users immediate access to device statuses, reports and video clips - locally or remotely. It is based on existing IT structures and has the capability of integrating new technologies - thus removing its dependency on any one system or manufacturer.
Completion of the entire Kuala Lumpur development is expected to take place in 2012.
Download PDF version