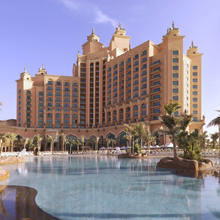 SiPass access control systems help ensure the highest security standards at Atlantis, The Palm
Integrated solutions are ideally suited to the hotel environment. Security can be integrated within a building management system (BMS) which is able to monitor and control a wide range of elements in the event of an emergency, from the opening of fire doors and smoke extraction vents to the automated activation of video surveillance systems to locate the source of the danger.
At Atlantis, The Palm, Siemens Building Technologies Division has provided a BMS to ensure the highest security standards. The security management solutions range from guest identification to monitoring the reception area and all the entrances and vehicle access points, along with delivery areas and port systems. This is achieved with SiPass access control systems fitted with intercoms, intruder and key management systems as well as security personnel.
Information is sent to the management station using the building's LAN (local area network), thus enhancing flexibility and assisting in trouble shooting by providing access to information from anywhere in the network. All critical alarms are sent as SMS from the BMS system to the identified group of "Security Service on duty". This enables the team to take quick and effective action in the event of an incident.
Download PDF version
Download PDF version