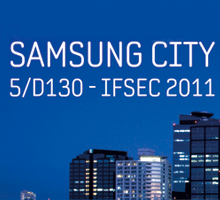 Samsung's largest ever booth at IFSEC will allow it to demonstrate its full range of security solutions
Samsung's requirement for its largest ever booth at IFSEC to allow it to demonstrate its Samsung City concept, has necessitated a move to an entirely new position in Hall 5 of the NEC.

"Our new stand in hall 5 will be over 40% larger than last year's," said James Smith, European Marketing Manager for Samsung Techwin Europe Ltd. "This gives us the ideal platform to effectively demonstrate our full range of security solutions made up from our latest line up of IP & Network products and other technologies from our CCTV, Access Control, Door Entry and Intruder Detection portfolio. Many of these products incorporate technologies unique to Samsung. We therefore will be providing visitors to our stand with hands-on demonstrations on how they can best exploit these exciting and innovative technologies to achieve the best possible return on their investment in security over a wide range of applications, including transport, retail, public space, critical infrastructure and residential to name but a few."

Samsung City

"The concept for our stand will be Samsung City," added James. "Our overall objective at IFSEC 2011 will be to show how all our product ranges can work in harmony to provide a totally integrated solution. We have the ability to positively impact on people's lives, both at home and in the workplace by providing seamless and fully scalable security solutions which will not disrupt an individual or an organisation's day-to-day activities, but add real value to them. Samsung City (D130, Hall 5) will give us the opportunity to demonstrate the full extent of our capabilities and our understanding of what is important to customers."
Download PDF version