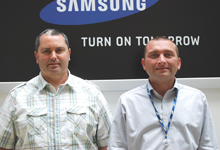 Andrew Maynard and Darren Conquer will provide telephonic support for Samsung's security products
Samsung Techwin Europe Ltd
has strengthened its technical support team with the appointment of Andrew Maynard and Darren Conquer as Technical Engineers.
Andrew Maynard, who has worked as a Service Engineer within the electronic security industry for ten years, was until recently with WOT Security whilst Darren Conquer has been a Senior Technical Support Engineer for Videoswitch, where he has worked for the last ten years.
"Andrew and Darren are both highly experienced in helping customers deal with technical issues and we are very pleased to have them join the Samsung team,"
Gary Fletcher-Moore, European Technical Manager for the professional security products division of Samsung Techwin Europe Ltd.
"Our products have consistently proved to be highly reliable as well as easy to install and commission. We are however determined to provide a fast and professional response if an installer is on-site and needs assistance."


Samsung's Technical Engineers provide telephonic support for customers who need advice on the installation and commissioning of Samsung professional security products as well as assistance on identifying and solving technical faults. If necessary, Technical Engineers can instigate a repairs process to ensure Samsung is able to keep to its five-day repair turnaround promise.
Download PDF version