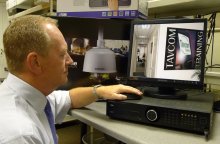 Workshop Manager Jim Hallet sets up new Samsung Electronics equipment at the Tavcom Training Centre
Delegates attending CCTV and Network IP courses at the Tavcom Training Centre will find the wide range of security equipment in the company's electronic workshops has once again been extended and improved after the company received generous support from Samsung Electronics, one of the world's leading manufacturers.
Samsung recently donated a valuable selection of digital recorders, cameras and domes that will be of enormous benefit to students and tutors during essential practical training sessions at Tavcom's Hampshire headquarters.
Tavcom Director Paul Tennent explained the importance of the new equipment. "Hands-on training using the very latest security technology' is vital if our students are to 'hit the ground running' in today's competitive workplace," said Paul.
"Although Tavcom remains a fiercely independent company, we welcome material and technical support from all major manufacturers like Samsung Electronics so that our students can gain experience with the 'real world' systems that they will encounter in the field. We are hugely grateful to Samsung Electronics for aiding and endorsing our training programmes with this very significant contribution to our resources".
Martin Cottle, Samsung Electronics Senior Business Development Manager, adds:
Students can now gain experience with real-world systems that they will encounter in the field
"Having personally attended Tavcom training courses in the past, I am fully aware of the benefits of being able to provide state of the art technology for students. Samsung Electronics is delighted to have been able to assist with the provision of some of our latest technology for students to train with. The Samsung Electronics Video Security Systems team, both in the UK and Korea, wholly endorse the highly professional training services delivered to the security industry by Tavcom Training."
Download PDF version