Samsung digital video recorders have been installed by Spy Alarms as part of an upgrade of Charlton Athletic Football Club's CCTV system.
Charlton Athletic FC's CCTV system has a major role to play during match days in order to comply with local authority licensing requirements. The club has to ensure that an effective CCTV system is in operation two hours before, during and one hour after a football match in order to comply with local authority's licensing laws. If they are not satisfied that all necessary measures have been taken to ensure crowd safety, the local authority can in fact refuse to grant a licence for a match to go ahead.

Images from the 32 dome cameras located in and around the stadium are recorded onto five Samsung SHR-5162 DVRs, two of which are used during match days specifically for safety and crowd control purposes. These allow control room operators and the police to automatically record, in real time and at maximum resolution, any incidents they are viewing. If required, the recorded video can then be very quickly retrieved and backed up for the police to use as evidence, using the SHR-5162's built-in DVD-RW or USB. The 16 Channel SHR-5162 utilises MPEG-4 compression to record high quality images whilst minimising video storage requirements.
Two of the other SHR-5162s are used for general security purposes which include recording video of the activities of unwanted visitors, such as ticket touts. A fifth SHR-5162 has been deployed as part of a separate CCTV system installed in the club's shop which is used to deter and detect would be shoplifters.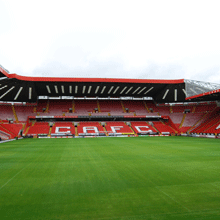 The 16-Channel SHR-5162 utilises MPEG-4 compression to record high quality images
Commenting on the choice of the Samsung SHR-5162 DVR, Martin Foster, a Director of Sevenoaks based Spy Alarms said: "We have been maintaining Charlton Athletic's CCTV system for over five years. The previous recording system had been doing a good job but it lacked many of the advanced features that come as standard with the SHR-5162. Having installed Samsung equipment previously for other clients, we were confident that the new DVRs would be reliable which was a key consideration bearing in mind what they are being used for. We also felt comfortable recommending the SHR-5162 to Charlton Athletic as its reliability is backed by a full three year manufacturer's warranty."
To complete the upgrade of the CCTV system, Spy Alarms, which has just celebrated its 25th anniversary, also supplied and installed twelve Samsung 19" monitors and a 32" 'spot' monitor.
"With over 20,000 fans on match days it is important for our security team to be able to make sure everyone is safe and that the day runs smoothly," said Mick Everett, Operations Director for Charlton Athletic FC.
"We depend on our CCTV system to a high degree and we therefore rely on Spy Alarms to ensure that it is effective at all times. We are fortunate that their Engineer, Simon Richardson, who is normally the technical person who is on six hour call-out, provides us with an excellent level of service and he is well supported by his other colleagues at Spy Alarms, who all show a keen interest in the system."
Download PDF version