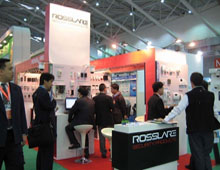 Rosslare's products were greeted with wide enthusiasm at SecuTech 2009
Held at the new and modern "Taipei World Center" located at the Nangang area, the
12th International Exhibition for Total Security Solutions
was bigger and better than ever! For the sixth time in a row,
Rosslare
showcased its products in an eye-catching booth, drawing present contacts, prospective customers and business partners alike.
With several new launches to boost, Rosslare's products were greeted with wide enthusiasm. Among some of the most impressive displays were the AuraSys™ Lite Family panels with their new compact design and slim keypads, and the MD-W11 Wireless Door Interface that enables traditional access control panels to connect wirelessly, and to communicate with remote door devices.
The new Violet distributed access control; Web browser-based solution also caused quite a stir as visitors could foresee the price reduction of unit cost per door, especially for large applications where eight or more doors are installed. Furthermore, there was high demand for Rosslare's wireless glass-break and vibration sensors, which are particularly necessary in Southeast Asian where windows are often left open in the summer.
Download PDF version