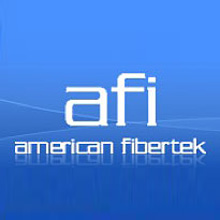 The new hardware includes additions to the AFI line of switchers, transceivers and multiplexers
Building on their reputation as the premier manufacturer of IP video and fiber optic communication and control solutions, AFI (American Fibertek Inc.) is introducing a host of new IP and fiber transmission solutions at ISC West. The new hardware includes additions to the AFI line of switchers, transceivers, multiplexers and other network communications devices.
"Expanding our lineup of IP and fiber transmission solutions enables us to reach out to a wider market with cost effective, innovative products," said Jack Fernandes, President and CEO of AFI. "With purpose-built design and functionality, the new hardware offers smart solutions for today's sophisticated video and audio surveillance and security systems."
Transceivers
AFI Series USB 2.0 – allows any USB 2.0 device to be transmitted through a fiber cable network. The system is available in module format for field use or rack card for control rooms and is compatible with multimode or single mode optics.
AFI Series 89C-GE – provides a completely transparent interface to allow Commend GE Series Intercom hardware to be fully integrated to a multimode or single mode cable infrastructure. Available as either a module or rack card, the system will seamlessly provide all the functions of the GE Series Intercoms on a single or dual optical fiber.
AFI Series 89A-IS – completely new transceiver enables seamless transparent interface between the Aiphone IP intercom and a multimode or single mode fiber optic network.
Switchers
MX6p / MX6p-POE Series – six port Ethernet switchers with four copper triple (101/100/1000) speed ports and two SFP gig ports for trunking. Available in module or rack format, the switchers will also support PoE on the copper ports.
9/10/24 Port SM Series – an expanded series of low cost network switches for managed and un-managed applications that can be PoE and non-PoE, with pluggable uplink ports for total network connectivity. Full network connectivity with the availability of PoE, SFP and all gigabit ports for all switch applications.
Multiplexers
91600-UTP / 91685-UTP Series – sixteen channel video multiplexer with active UTP RJ45 I/O rather than conventional BNC connections. The system is designed to reduce the interconnections required when integrating UTP active baluns with a fiber optic cable system. Available as either multimode or single mode products, the series is an expansion of the popular AFI 908-UTP concept.
9088 / 9088SL Series – an eight channel audio multiplexer providing CD-quality 24-bit audio on a single optical fiber. Offering compete transparency, the systems can be integrated with the proven AFI multi-channel (16-56) video systems or used standalone when audio only is required. Available in multimode or single mode configuration.
988 / 988SL Series – provides eight channel video / audio on a single multimode or single mode fiber. Delivers broadcast quality video and high quality 24-bit audio with capability for transparent, seamless integration into any system architecture.
Network Communication
Net I/O 121 Series – a cost effective contact closure/data channel solution offering twelve contact closures and a multi-protocol data channel. The series enables interfacing of any device with a contact closure or data channel full network connectivity. Allows information tunneling between any AFI Scout, Commander or NET I/O product; provides email or TCP/IP messaging to authorised user. Packaged in a 1U design for wall or rack mount configuration.
Download PDF version