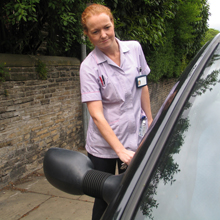 Reliance Protect provides NHS staff with the support they need in the unfortunate circumstance
Reliance
has announced the roll out of Reliance Protect, an end-to-end lone worker protection solution to NHS staff. The rollout commenced on 5th May 2009 starting in London and the South East following the commitment by Health Secretary, Alan Johnson to improve the safety and security of NHS staff.
Reliance has been contracted by the Government to provide a total solution package to NHS staff. The Reliance Protect solution comprises the supply of an Identicom™ security device including SIM card and network connection, end user training, full 24/7 manned monitoring and a dedicated servicedesk.
Reliance worked closely with partner company Connexion2, which supplies the Identicom device, to achieve the most competitive pricing in the market place. Reliance Protect offers an end-to-end solution -- from management support during adoption and implementation through to training and support -- at a cost of under £10 per month for users on a three-year contract, less than 33p per day. These competitive pricing and terms are also available to other public sector organisations through the framework agreement.
The Identicom device uses Location Based Service (LBS) technology to locate the user. By discreetly activating the device in the event of an incident, the user opens a live channel to the Reliance Monitoring Centre. The centre is BS5979 Cat II accredited which proved fundamental in the selection of Reliance to protect NHS staff. Reliance operators are intensively trained to interpret events and by listening to and capturing evidence during an incident they provide swift and proportional escalation, including police involvement where required.
Health Secretary, Alan Johnson said: "No NHS staff should have to put up with violence in the workplace, but sadly it happens. Lone workers are particularly vulnerable and I am determined to provide them with as much protection as we can to enable them to carry out their valuable work knowing that they have the support they need should their personal safety be threatened".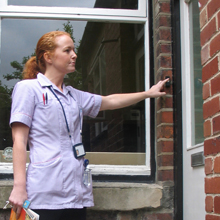 Reliance has been contracted by the Government to provide a total solution package to NHS staff
Reliance Protect will be initially targeted at community workers who work with patients and their families or associates who have a history of violence, alcohol or drug abuse or clinical conditions which might heighten risks to the lone worker. In addition, it will also be offered to NHS personnel who work in areas of high crime rates and social deprivation.
Rob Lyman, Business Development Director at Reliance said, "Reliance Protect provides NHS staff with the support they need in the unfortunate circumstance of abuse and violence in the workplace. By working closely with the NHS and our partners Connexion2, we have provided a cost-effective solution conducive to the working environments and security needs of lone workers while promoting a culture of dynamic risk assessment."
Download PDF version