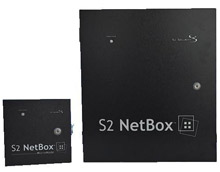 Reliance High-Tech has become an authorised integrator in the UK for S2 Security Corporation's products
Reliance High-Tech
has become an authorised integrator in the UK providing an end-to-end service from design and install through to maintenance for the full range of security products manufactured by
S2 Security Corporation
.
Reliance High-Tech offers a complete range of integrated electronic security services and solutions to safeguard and protect people, property and assets. Using technologies such as CCTV, access control and remote monitoring, Reliance's services are designed to add value at every stage of the security lifecycle.
S2 develop a unique line of open architecture, scalable, IP network-ready products for the physical security industry that integrate access control, alarm monitoring, video surveillance, and temperature monitoring. Common to all of their products is their 100% web-based user interface: you require nothing more than a common web browser to use even the largest S2 security system.
Mark Thompson, Regional Manager, Reliance High-Tech, said: "At Reliance we strive to provide the best possible combination of products and services to suit our customers' needs. With S2 we can offer a flexible suite of IP-enabled products that enable customers to leverage their IT networks, seamlessly enable remote monitoring and easily integrate with other business applications."
Download PDF version