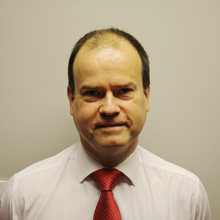 David Ward has over 20 years of experience within the intruder market
Pyronix are delighted to welcome David Ward to their growing marketing team as Product Manager. David brings with him over 20 years of experience from within the intruder market, working with both manufacturers and NSI Gold installers. He is therefore ideally placed to tailor product specifications to the needs of installers and end users alike.
On his new role, David said "The record number of product launches that Pyronix have already made this year is proof that these are exciting times. With a comprehensive product road map in place I am confident that Pyronix are the best placed manufacturer for providing the next generation of security solutions that the market requires."
Pyronix's commitment to reinvestment in R&D, and roadmap for the future, leave a pipeline of exciting product templates awaiting David's input. In finalising our detailed designs, we are more than confident he will provide the essential expertise and 'fresh pair of eyes' that will continue to improve alignment between market needs and technical specification.
Pyronix will continue to keep you updated on their product developments, which will include them being showcased on their return to IFSEC next year (Stand E1600).
Download PDF version