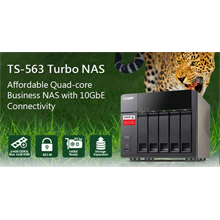 With Surveillance Station installed, the AMD-powered TS-563 becomes professional-grade surveillance center for monitoring live feeds
QNAP® Systems, Inc. continues its partnership with Advanced Micro Devices, Inc. (AMD®) to announce the 5-bay TS-563 Turbo NAS. With an AMD Embedded G-Series quad-core 2.0GHz SoC processor and up to 16GB RAM, the TS-563 features AES-NI hardware-accelerated encryption, SSD cache acceleration, AMD-V™ virtualisation, and optional 10GbE connectivity that allows small and medium businesses to build private clouds suitable for high-speed networks and application-intensive environments. The TS-563 is available at a budget price to maximise ROI and will be showcased at Computex Taipei 2015.
"The TS-563 is our most affordable 10GbE-ready quad-core NAS with hardware-accelerated encryption and virtual machine support. It is a fast and scalable NAS solution designed for optimising business applications and satisfying quickly-growing data storage needs while providing 10GbE readiness for budget-conscious organisations and professionals," said Jason Hsu, product manager of QNAP.
"We're pleased to extend our collaboration with QNAP to bring innovative NAS solutions to market," said Dilip Ramachandran, Senior Director of Marketing, AMD Embedded Solutions. "The AMD G-Series SoC offers a low power solution delivering high performance at attractive cost levels. Together with QNAP, this offers an ideal match for NAS customers."
Ensures safety of sensitive data
Powered by an energy-efficient 64-bit AMD Embedded G-Series quad-core 2.0GHz SoC processor with 2GB/8GB DDR3 RAM (upgradable to 16GB), coupled with SATA 6Gb/s support and 2 x 1GbE LAN ports (expandable to 4 x 1GbE or 2 x 1GbE + 2 x 10GbE ports), the TS-563 delivers high speeds of up to 1,056 MB/s sequential read throughput with 2 x 10GbE configuration for multi-tasking business applications. The hardware encryption engine with AES-NI provides unmatched sequential read performance exceeding 1,421 MB/s with AES-256 bit full NAS volume encryption, accelerating system performance and security while ensuring the safety of sensitive data.
Support for AMD-V technology
With the support for AMD-V technology, the TS-563 can operate multiple Windows, Linux, UNIX and Android-based virtual machines. Virtualization Station offers numerous functions including snapshots, VM import/export, user permissions, and more. Users can conveniently access the VMs via web browsers or other remote desktop viewers.
"The TS-563 is our most affordable 10GbE-ready quad-core NAS with hardware-accelerated encryption and virtual machine support"
The TS-563 has a range of comprehensive business applications and is ideal for SMBs to build a secure private cloud. It supports VMware®, Citrix® and Microsoft® virtualisation solutions to simplify virtual storage management and to facilitate virtualisation applications. The cross-platform file sharing for Windows, Mac, and Linux/UNIX users makes the TS-563 a high-performance centralised storage solution for business entities. Windows AD, LDAP directory services and Windows ACL support improves the efficiency of permission settings. The TS-563 can also act as a domain controller for Windows, and offers flexible backup solutions for Windows and Mac users and disaster recovery solutions including Real-Rime Remote Replication (RTRR), rsync and cloud storage backup.
Professional-grade surveillance centre
With Surveillance Station installed, the TS-563 becomes a professional-grade surveillance centre for monitoring live feeds, recording video and audio, and playing recordings. It offers 4 free IP camera channels and users can flexibly expand up to 40 channels by purchasing additional licenses to meet their demands.
The scalable TS-563 can connect up to two QNAP expansion enclosures (8-bay UX-800P or 5-bay UX-500P) to expand the total storage capacity up to 21 drives (168TB total raw capacity with 8TB drives) with advanced features including flexible volumes and storage pools. SMBs can freely enlarge their storage capacity to tackle storage-intensive applications such as video surveillance, data archiving, TV broadcast storage, and more.
Key specifications
TS-563-2G: 2GB DDR3 RAM (2GB x1)
TS-563-8G: 8GB DDR3 RAM (8GB x1)
AMD® embedded G-Series quad-core 2.0GHz processor, RAM is expandable to 16GB DDR3 SO-DIMM RAM; hot-swappable 2.5"/3.5" SATA 6Gbps HDD/SSD, 5 x USB 3.0; 2 x Gigabit LAN ports; 1 x PCle expansion slot for adding 10GbE or 1GbE LAN ports
Download PDF version