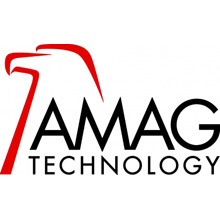 The Symmetry and BioManager integration provides
complete biometric enrolment
AMAG Technology, an access control, IP video and intrusion detection (IDS) solution provider, is pleased to announce that Identity One is now a member of the Symmetry Extended Business Solutions Program as a Certified Partner. Identity One has certified its BioManager biometric middleware with AMAG's Symmetry v7.0.1 Security Management System, which combines its biometric middleware solution with AMAG's Symmetry access control software. AMAG and Identity One cooperatively tested and certified this integration.
"AMAG customers now have the option to integrate their Symmetry Security Management System with Identity One's state-of-the-art BioManager biometric middleware, providing another option for their biometrics needs," said AMAG Technology, Symmetry Extended Business Solution, Program Manager, Shae Taylor. "I am excited they have joined AMAG's Extended Business Solutions Program, and look forward to working with them and providing cutting edge solutions for end users."
"The BioManager / Symmetry integration provides customers with a seamless link between Symmetry card holders and the latest finger vein/print and 3D face biometric technology," said David Smith, CEO, Identity One Corporation. "Combining the most accurate and reliable fingerprint, finger vein\print and 3D face biometrics available with the feature rich Symmetry access control platform provides end users with the most convenient and most secure access control solution available."
The Symmetry and BioManager integration provides many benefits for end users:
Easily search for users and complete a biometric enrolment
Details are automatically shared and updated
No duplicate cardholder\user data entry - only one system to administer
BioManager middleware creates a single data view of Symmetry card holder and biometric enrolments for fingerprint, finger-vein and 3D face. Identity One's biometric solutions are independently ranked #1 by NIST (National Institute of Standards Technology) for accuracy and reliability. They are simple to install and include a variety of models to accommodate different installation environments. Existing Symmetry systems can be easily retrofitted with biometrics for an immediate increase in security.
Download PDF version