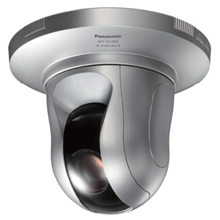 WV-SC385 Super Dynamic HD Dome Network Camera
At
IP Expo 2010
,
Panasonic System Networks Europe (PSNE)
exhibited their fully integrated IP solutions to the 8000+ visiting IP industry delegates. PSNE solutions from security, telephone systems, document, imaging plus Toughbook ruggedised computers were demonstrated showing true IP convergence throughout data; video and voice applications at Panasonic stand 224 of the exhibition.
Steve Gerrard, Head of Marketing UK and Ireland stated: "
IP traffic types such as video, voice and data can be thought of as generic applications that tend to coexist separately on shared IP infrastructures, PSNE Application Convergence solutions allow 'true convergence' whereby traffic types can interact with each other. For example, an event in the video application will result in an action in the voice application, irrespective of whether the infrastructure wired or wireless."


PSNE demonstrated this at stand 224, showcasing a range of security, telephony, software and computing products:
WV-SC385, WV-SP105 and WV-HCM715 CCTV cameras
KX-NT400, KX-DT346, KX-NT343 and KX-NCP500 enterprise telephone and PBX systems
Panasonic Toughbook CF-19 and CF-H1
IP Expo also marked the launch of the anticipated WJ-NV200 Network Disk Recorder. The effortless, '4-stage set up' and intuitive operation makes the WJ-NV200 versatile for a range of public locations and ensures ease-of-use. The built-in decoder and intelligent GUI eliminate the need for a PC; reducing the total cost of ownership and removing time and complication from operation.

Panasonic Alarm Manager (PAM) also made its debut at IP Expo, extending the capabilities of PSNE's smart security systems. PAM creates a relationship between common intruder alarm systems and Panasonic CCTV security systems. In essence, PAM uses previously inaccessible information detected by third party sensors to point and coordinate faster deployment of 'on the ground' security resource.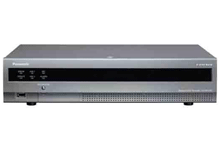 WJ-NV200 i-PRO SmartHD Network Video Recorder
PSNE's OneNet software is a unique development in Panasonics Unified Communications portfolio that also made Panasonic stand out at IP Expo. Bringing together a common feature set and significant network enhancements, OneNet allows greater transparency between teams enhances network scalability and makes seamless communication across multiple systems on a single virtual network easier.
IP Expo also saw the Panasonic Toughbook CF-19 and CF-H1, with improved connectivity, used on the stand to demonstrate capabilities as a mobile monitoring tool for PSNE's integrated IP Solutions. The Toughbook CF-19 is the market leading, rotating screen, convertible rugged notebook that has transformed mobile IP monitoring and the CF-H1 is the ideal tool to access applications and data in the most difficult mobile environments.
Download PDF version
Download PDF version