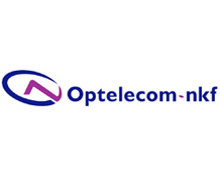 Optelecom-NKF has laid out a conservative plan for its surveillance products for 2010
Optelecom-NKF, Inc
., a leading global provider of Siqura® surveillance solutions, has reported results for the fourth quarter and full year of 2009.
Revenue for the fourth quarter totalled $9.3 million, a decrease of 21% compared to revenue of $11.8 million for the same period a year ago. Revenue increased 12% on a sequential basis from the $8.3 million reported for the prior quarter ending September 30, 2009.
For the full year of 2009, revenue totaled $36.2 million compared to revenue of $45.2 million for 2008. The net loss for the fourth quarter of 2009 was $234 thousand, or ($0.06) per diluted share, compared to a net loss of $3.0 million, or ($0.81) per share for the same period in 2008. The fourth quarter of 2008 included non-cash charges of $3.5 million, primarily for the write-down of deferred tax assets.
For all of 2009, Optelecom-NKF reported a net loss of $2.4 million, or ($0.66) per diluted share, compared to a net loss of $1.8 million, or ($0.48), in 2008.
Optelecom-NKF also announced the restructuring of subordinated debt held by Draka Holding, N.V. Under terms of the agreement, Optelecom-NKF will make quarterly interest payments at an annual interest rate of 10% and provide Draka with additional collateral and a pledge of assets. In exchange, Optelecom-NKF received a one year extension of the term to March 8, 2011. Prior to the execution of the restructuring agreement with Draka, Optelecom-NKF paid off and terminated the senior term loan and line of credit facilities with M&T Bank.
"While we showed improvement quarter-to-quarter and restructured our debt, it's clear we must continue to take steps to support long term growth and contain costs," said Dave Patterson, Optelecom-NKF's president and CEO. "Our ongoing focus is on improving global sales performance. We'll continue to strengthen our Siqura brand, streamline how we work, and work to improve our insight into the evolving needs of our customers."
The network video equipment supplier reported a full 2009 revenue of $36.2 million compared to $45.2 million for 2008
"
During the business downturn, we implemented a reduction-in-force and cut overhead to a level more in line with our revenues. We also made changes in our sales leadership and structure. We now have fewer levels from the bottom to top, improving the flow of information and increasing the speed of decision making. While the business environment seems to be improving, we have yet to see capital spending commitments by customers rebound to pre-crisis levels. Appropriately, we've laid out a conservative plan for 2010, anticipating that we can quickly adapt should conditions exceed our expectation
."
Fourth quarter conference call
If you are unable to participate during the live webcast, the event will be archived at http://www.videonewswire.com/event.asp?id=66480.
Non-GAAP earnings addendum
We define Adjusted EBITDA as net income or net loss plus interest expense, income taxes, foreign exchange gains and losses, depreciation and amortisation. Adjusted EBITDA is not a measure of cash flow or liquidity as determined by U.S. generally accepted accounting principles (GAAP). We have included Adjusted EBITDA as a supplemental disclosure because we believe that it is widely used by investors, industry analysts and others as a useful supplemental measure. Optelecom-NKF calculates and uses Adjusted EBITDA as an indicator of its ability to generate cash from reported operating results.
Adjusted EBITDA does not represent funds available for our discretionary use and is not intended to represent or to be used as a substitute for net income or cash flows from operations data as measured under GAAP. The items excluded from Adjusted EBITDA but included in the calculation of Optelecom-NKF's reported net income are significant components of the accompanying unaudited consolidated statements of operations, and must be considered in performing a comprehensive assessment of overall financial performance. Other companies may calculate Adjusted EBITDA differently than we do, which may limit its usefulness as a comparative measure.
Download PDF version