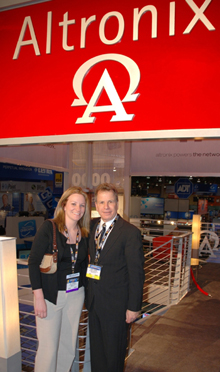 Jill Yankow, won a $150 Visa® cash card from Altronix at ISC west

There was a new buzz going around at ISC West in Las Vegas this year. It was the sound of text messages containing winning Power Numbers for several lucky attendees who had enrolled in Altronix's text-to-win promotion, the first of its kind for the industry.
One winner, Jill Yankow, walked away with a $150 Visa® cash card from Altronix. "This was another intuitive idea from Altronix," said Ms. Yankow. "The Altronix 'Text-POWER-"To-Win' promotion was so easy to do and a great way to communicate during ISC West. I never thought winning could be as simple as sending a text message."
To enrol, participants simply sent a text message containing the word "POWER" from their cell phones to a designated number. Text messages sent out included information about great show specials on new Altronix products in addition to Power Numbers, each one a potential winner. Participants also got a fun free ring tone - "I've Got The Power" - the first day of the show.
"We generated additional booth traffic and had a lot of fun with this promotion," said Alan Forman, President, Altronix Corporation. "It's good to break out of the box - not just with our development and engineering, but also with our outreach to the industry, our channel partners and our customers. The text-to-win promotion is a great example of how Altronix is always looking for new and better ways to do things."
Download PDF version