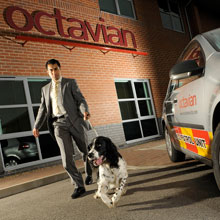 Sukhi Ghuman, Octavian Security owner and founder, established the Canine Division in 2007
Octavian Security
, the Derby based, award-winning security firm, is expanding its Canine Division in response to the heightened threat of internal and external terrorist activities and their use of explosives such as PETN and TATP.
Octavian Security commercial director Tony Mellor said:
"Companies are increasingly recognising their corporate responsibility for the safety and security of their personnel, customers and property, and are now utilising sniffer dogs as well as guard dogs as extra safety measures."

"Our dogs are trained to sniff explosives, tobacco, narcotics and alcohol. Each dog is trained in one specific area, and we can also train handlers. It's apparent that logistics companies and cargo in general require tighter security and we believe that dogs are one of the most effective forms of detection. We have been saying this for many years now."


Octavian has been supplying dogs to clients in the Middle East since 2007 and to the UK pharmaceutical industry. The new anti-terror sniffer dog service will be rolled out internationally, with particular emphasis on the UK, US and the wider Middle East region.
In order to ensure the quality of Octavian's dogs, they undergo a rigorous entry examination during which they are tested for their retrieval, drive, courage, perseverance and conduct. They also undergo extensive medical checks, in accordance with relevant regulations.
Training of Octavian Security dogs is delivered by qualified handlers using a variety of chemical-based substances. The initial training period lasts for two months and thereafter, dogs and handlers receive refresher training every year. Each dog has its own training records and once it has passed the necessary procedures, certification is gained.
Tony adds:
"Police dogs have fulfilled a valuable role in bomb and explosives detection since World War 1, and in later years - narcotics. As yet, the canine sense of smell has not been bettered by technology."

"The recent terrorism scare at East Midlands Airport has displayed graphically how important the security of cargo is to freight and logistics companies. Our Canine Division is here to help."
Download PDF version
Download PDF version