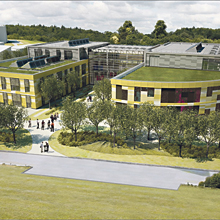 SALTO data-on-card access control allows users to control the building in almost real time through the SALTO Virtual Network (SVN)
The latest on campus development at Bath Spa University, a university based in, and around, Bath, England, is their new 'Commons' building which will feature access control provided by SALTO Systems.
As well as state-of-the-art teaching facilities, digital space and a café, the new 'Commons' building will include approximately 1,800 square metres of learning environment which comprises a range of open-access, technology-enabled study space, social learning space and bookable group working rooms. The new digital studio will also provide the best resources for teaching digital media-related courses in the south-west, equal to anything found at cutting-edge commercial organisations and broadcast companies.
The development at the University's Newton Park campus has been designed in consultation with English Heritage and Natural England, ensuring it meets the highest environmental standards and blends sympathetically into the existing estate to provide a unique blend of modernity and history.
To control access to and within this new development, the University has specified a SALTO access control system which is being supplied, installed and commissioned by SALTO Certificated Partner Guardian Security South West, of Exeter.
Jim Caola, Sales Manager for Guardian Security South West, says "With regards to internal door security, specifying the correct access control solution was a vitally important consideration from the outset for this project. Keen to ensure their cutting edge design incorporated the very latest security innovations, the University chose to go with an extension to their existing 350 door SALTO system which is already on campus.
So working in consultation with the many stakeholders on site we are installing 43 Mifare online doors, which include some lift doors, and about 90 SALTO XS4 handle sets together with a number of GEO electronic cylinders for plant rooms. This gives them simplicity, affordability and a fully scalable solution that allows for instant upgrades at any time.
The advanced system design of the SALTO data-on-card access control system allows users across campus to control the building in almost real time through the SALTO Virtual Network (SVN). This software allows the stand alone locks to read, receive and write information via their operating ID smart cards. Data is captured from the cards at SVN on-line hot spots located at strategic points which upload and download user related information that is then used to permit, control or deny access."
Anita Edson, Capital Project Manager at Bath Spa University, comments: "The SALTO access control system enables us to control the security of Commons, including authorising or denying access privileges to individual rooms all from one control point and most importantly it can grow to meet our ongoing future security needs as required."
Download PDF version