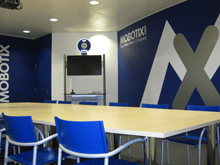 MOBOTIX opened a demonstration and meeting room at London's iconic Gherkin office complex
MOBOTIX AG, a leading manufacturer of digital high-resolution, network-based video security systems has opened a new demonstration and meeting room at London's iconic Gherkin office complex which is fully bookable by any registered UK partner. Set in the heart of London's financial district, the new suite will showcase the entire MOBOTIX portfolio in a professional yet cutting edge environment within easy reach for busy professionals.

"MOBOTIX is an innovative and unique company and our new central London office reflects our ethos," explains Mike Lewis, Business Development Director for MOBOTIX UK & Ireland, "This is not a vanity project but a realisation that our channel partners need a highly accessible and well equipped demonstration and meeting facility in the capital which will help them close more deals." The new office can also be booked for training days and will be used for new product demonstrations and press and analyst meetings.

30 St Mary Axe, also known as the Gherkin and the Swiss Re Building, is a skyscraper in London's main financial district, in the City of London and opened at the end of May 2004. With 40 floors, the tower is 190 metres tall and stands on the former site of the Baltic Exchange building.

Guy Jones, Managing Director of J Brand, one of the first MOBOTIX Partners to visit the new suite commented, "Having the option to host demonstrations with potential clients in such a prestigious location will be a major benefit for us. The opening of a dedicated demonstration suite is a clear sign that MOBOTIX is committed to helping partners grow and is a positive statement of the maturity of its UK operation."
Download PDF version
Download PDF version