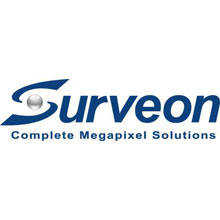 Surveon's EMR Series features Milestone Systems' XProtect surveillance software
Surveon, the complete megapixel solutions provider and Milestone Solution Partner, recently announced it will showcase the full lineup of EMR Series -megapixel hardware RAID NVR solutions featuring Milestone Systems' industry-leading XProtect surveillance software, at IFSEC 2012 in Birmingham, UK, from May 14 to 17. EMR Series offer 2, 5, 8-bay all-in-one desktop recorders and rack-mount NVRs and can support up to 112 hard disk drives and 6 to 2,000 channel megapixel recording with high availability and easy maintenance.
Surveon's EMR Series provides high I/O rates, large capacities, and overall system stability necessary to help system integrators easily meet the demands of megapixel environments. Combined with an industrial-grade design, EMR Series offers an ideal solution for any scalable surveillance projects from retail, hotels and schools to building complex, transportation, and urban surveillance.
Designed 100% in-house, the EMR Series provides many advantages compared to commercial off-the-shelf solutions and PC NVR solutions. The EMR Series systems deliver professional video appliances and have gone through a comprehensive QA process including hundreds of hours of rigorous assurance testing on performance and integration validation with XProtect. In addition, the EMR Series is a fully integrated solution that does not require complex assembly procedures and offers high quality and reliability.
Survone's EMR Series comes with a fully integrated Milestone XProtect solution in the Greater China region. In other regions, XProtect is pre-loaded in EMR and requires an XProtect license from Milestone's distribution channel.
Download PDF version