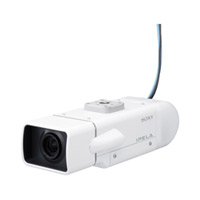 The surveillance solution is also a useful tool to solve crime and preventing vandalism

Video surveillance is a powerful tool for monitoring crime and preventing vandalism, as seen in the Tingbjerg housing complex in a suburb of Copenhagen, Denmark. Here they have experienced a significant reduction in vandalism since the installation of surveillance cameras in basements and laundry facilities. From January 2006 to August 2007, repairs due to vandalism had cost Tingbjerg more than DKK 1.1 million (approx. €150,000). Thanks to the surveillance solution, these expenses decreased greatly within just a few months.
"The residents benefit from the money saved," says Johnny Priess, who manages more than 1,130 apartments in the housing association SAB that includes Tingbjerg.
Cost savings
"Together with resident representatives, we agreed to implement a video surveillance solution. What tipped the scale were the positive results in the Mjolnerpark housing situated in the Northwest area of Copenhagen, where AC Sikring had successfully installed a similar solution with Sony cameras and Milestone software. The Mjolnerpark housing complex registered a dramatic drop in vandalism over several years," states Priess. As soon as the first installations of cameras began at Tingbjerg, they could ascertain fewer instances of vandalism.
Satisfied residents
"The residents are very pleased with the surveillance solution, and I have never heard any negative comments. We have not had any issues with vandalism in basements and laundries since the installation. And we are ready to take any potential offenders to court," confirms Priess.
The surveillance solution is also a useful tool to solve other matters, for instance, residents leaving furniture that blocks general basement passageways. The persons responsible first receive a notification from the administration. If that does not work, they must pay the cost of removal.
System pays for itself
After the installation of almost 500 video cameras, SAB Tingbjerg housing complex in Copenhagen has reduced vandalism in basements and laundry facilities by 50-60%
"We also get calls from residents asking us to check who has stolen their bikes from the basement. The solution allows us to search the video data based on time and place, which lets us find the perpetrator quickly. The system is easy to use," explains Priess. "Initially we figured that the almost 500 Sony video cameras and the entire IP network would pay off in 6-7 years, but it looks like it will happen much faster."
Based on the positive results, Priess is currently investigating the opportunities for monitoring the outdoor areas, like around garbage containers. "The worst thing you can do is nothing," he concludes.
Experiences with large installations
The solution with the Sony cameras and Milestone XProtect software was installed by AC Sikring, who has extensive experience with similar installations like the Mjolnerpark housing complex and Brondby municipality, where video surveillance has been installed in several institutions and schools.
"These solutions are all built in the same way and consist of a network with several central servers that store the recordings, so it is easy to search for a specific event if you need evidence of criminal activity or vandalism," says Jimmi Hegn of AC Sikring.
In practice, all recordings from each residential block are compiled in a local server that automatically communicates with a central server to give maximum security. The recordings can be viewed by authorized people from any PC connected to the Internet - all you need is a password. The recordings can be printed as still pictures or exported to a DVD.
"We knew that video surveillance works. In Mjolnerpark it helped stop the local fires, which had been a problem for several years. In addition, the residents stopped dropping garbage in unauthorized places, since video recording gives us clear evidence of what happened," says Jimmi Hegn.
Download PDF version