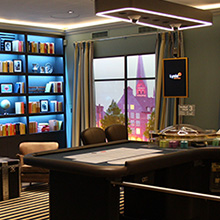 Sony mini dome and PTZ-network cameras were installed with Milestone XProtect Corporate video-management software

Background
Spielbank SH GmbH operates five casinos in Germany, welcoming more than 30,000 guests every year to locations throughout Schleswig-Holstein.
The organisation's newest venue is targeted at guests over the age of 35 who are looking for an entertainment venue as well as a gambling destination. With this in mind, the Lysia clubsino Lübeck opened on 8th December 2012 as both a club and casino rolled into one, with a bar and stage area for hosting in-house entertainment. Spielbank SH GmbH appointed BHS Böhm e.K. to handle the planning and execution of a video surveillance installation due to its specialism in high-end casino equipment and video surveillance technology.
Challenges
Lysia clubsino Lübeck required video surveillance solutions to monitor slot machines, gaming tables, cash desks, foyer areas and function rooms within the casino. The casino required a bespoke video security solution including; high frame rates (at least five images/s); guaranteed fail-safe functionality; and high-resolution imagery to combat relatively poor lighting conditions. Installation logistics threatened to be a challenging factor, as the new casino was relocated from an original site in Travemünde. As a result, the installation would have to be carried out within a short time frame.
Solution
After assessing the specific requirements of the Lysia clubsino Lübeck site, BHS Böhm e.K. recommended a combination of 86 Sony mini dome and PTZ-network cameras, as well as Milestone XProtect Corporate video-management.
The SNC-DH140 and SNC-DH240 HD mini dome cameras deliver optimum performance even under poor lighting conditions due to their outstanding HD image quality and signal processing technology. Furthermore the cameras also feature automatic zoom and focus functions, as well as View-DR wide dynamic range technology and XDNR noise reduction features. The HD bullet camera SNC-CH280 is ideally suited for outdoor use due to its True Day/Night function, IR Illumination and DEPA Advanced analysis capability. The Sony Exmor CMOS sensor delivers high picture quality images to record incidents clearly and reliably.
This installation incorporates 27 PTZ cameras, with Milestone XProtect Corporate capability to achieve accurate positioning. The SNC-EP521 model has swivel, tilt and zoom functions for surveillance tasks that cover large surface areas. The powerful 36x optical zoom and 12x digital zoom achieves a total zoom factor of 432x.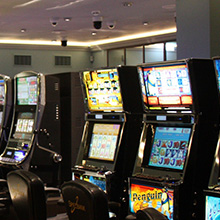 SNC-DH140 and SNC-DH240 HD cameras deliver optimum performance under poor lighting conditions
The HD rapid dome camera SNC-RH124 features high-speed swivel capabilities. The camera has a tilt range of 210° and a continuous 360° swivel range to record images quickly and to a high level of detail. HPoE capability (High Power over Ethernet) and support for various codecs enables optimum flexibility for the system design, integration and installation stages.
The PTZ cameras are able to position automatically thanks to the new video system being integrated with several third party systems. For example, surveillance of slot machines is performed using specialist software from BHS Böhm e.K. called ISS Intelligent Slot Surveillance.
Results
The project commenced in October 2012 and was completed in time for the December opening date. The intelligent positioning of Sony PTZ cameras rendered it possible for video surveillance to be performed using approximately half the number of cameras that would normally be required. As a result of the installation, picture quality was greatly enhanced and BHS Böhm e.K. is already receiving enquiries from other casinos interested in upgrading to a Sony network solution.
Why Sony was selected
The Sony solution was cost effective and fulfilled the casino's safety requirements. All of the components were readily available from BHS Böhm e.K. Through this partnership, additional units can be quickly sourced resulting in significantly reduced storage costs.
Matthias Hein, General Manager of five casinos in Schleswig Holstein. "With the Sony cameras' high resolution, we are able to identify individual betting chips and see which player they belong to. The fast focusing of the cameras as well as the automated zooming on previously defined coordinates makes our job much easier. Also, the matching of pictures and data runs very smoothly."
Download PDF version
Download PDF version