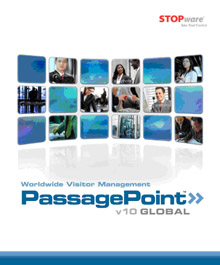 STOPware™, Inc. is showcasing the features and benefits of their integrated solutions at this week's ISC West show
STOPware™, Inc., the industry leader in visitor management, is showcasing the features and benefits of their integrated solutions for use in the business and educational markets at this week's ISC West show.
Included in the display is the new mobile solution which features a Panasonic Toughbook® Computer with broadband option, loaded with STOPware's PassagePoint® Global v10 Visitor Management Solution. Also included is the recently introduced stand-alone kiosk solution, comprised of the PassagePoint Global v10 Software integrated with a Meridian-built kiosk.
"STOPware's integrated visitor management solutions extend beyond the traditional applications to service more of the needs of our customers," said Paul Terschuren, VP Sales and Marketing, STOPware, Inc. "Through integration with notable third party providers such as Panasonic and Meridian, these configurations deliver powerful and enabling capabilities that can improve the safety and security of a facility."
Visitor Management On the Go with New Panasonic Toughbook® U1
To meet the needs of customers with multiple facilities or where the presence of physical security needs to be obvious, such as schools or guardhouses, the Panasonic Toughbook® U1 Mobile Computer loaded with PassagePoint Global v10 provides an all-in-one visitor management solution that can be used anywhere wireless service is available. Data collected is dynamically uploaded via an 802.11 wireless connection to the user's main PassagePoint Server. The Toughbook® allows mobile users to stay connected without sacrificing power.
Self-Registration Kiosks are the Answer to Unattended Lobbies
The secure kiosks, manufactured by Meridian and using STOPware's PassagePoint technology, provide a visitor self-registration solution that is optimized for busy lobbies with high traffic or unsupervised/unstaffed lobbies. Visitors are guided through the sign-in process, a photo is taken with the built-in camera and a professional visitor badge is generated, all within seconds.
STOPware Solutions
Additional STOPware visitor management solutions on display include:
PassagePoint Global v10 is STOPware's comprehensive enterprise-level visitor management software suite. Its unique capabilities include mass notification, centralized control, customized screens and live background checks for easier implementation on a local or global scale.
PassagePoint EDU is designed specifically for the K-12 education market with advanced features to help manage and control access and monitor pedestrian traffic. The system gives users the ability to scan driver licenses to aid in easy data entry, automatic background check against live internet databases, and to provide temporary badges which show the visitor is authorized to be in the school.
Download PDF version
Download PDF version