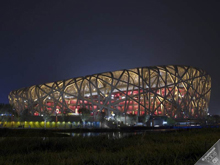 MATE Intelligent video solution ensure safety of both spectators and athletes during the Olympic Games
MATE Intelligent Video, the technology leader in intelligent video surveillance systems and video analytics, announced that its intelligent video systems had been part of a large integrated video surveillance system installed at the Beijing National Stadium.
The Beijing National Stadium, also known colloquially as the "Bird's Nest", was designed to host the 2008 Olympic and Paralympic Games. This $423 million futuristic stadium is the world's largest steel structure with a seating capacity of 80,000. The Bird's Nest hosted the opening and closing ceremonies, athletic events, and soccer final of the 2008 Summer Olympics, from August 8-24, 2008. Digital China Information System, LTD., MATE's partner in China provided local support for this project.
MATE Intelligent Video solution played a crucial role during the Olympic Games to ensure safety of both spectators and athletes. MATE's Trigger, an embedded processor for video detection and transmission was chosen to upgrade the CCTV system to an intelligent video detection system, using MATE's video analytics to monitor 24/7 strategic areas and critical points in and around the stadium.
All Trigger units were managed from a centralized location and the automated surveillance allowed stadium management to lower supervising costs and increase response time to security alerts.
"MATE's Intelligent Video Analysis Products were used as a part of the Beijing Olympic Venue Security Command System Project and were reliable and high performance," said the Integrator on the project. "These products enhanced the traditional CCTV systems in the stadium by adding an additional security layer".
"We are proud to have been taking part in this important project" said Adiv Baruch, Chairman of MATE. "This was a step further in the industry's acknowledgement that Intelligent Video is a must for any security system".
Download PDF version
Download PDF version