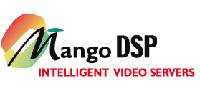 MATE Intelligent Video, a leading developer of video analytics and its partner, Mango DSP, a leading provider of intelligent video servers for the CCTV, video surveillance, homeland security defence markets, announced recently the extension of their cooperation that will yield advanced analytic capabilities.
MATE has decided to leverage its experience with Mango DSP platforms to extend its existing DSP product line by utilizing Mango DSP's Raven line of products ranging from a single camera up to 60 video channels in one solution. Mango's intelligent video servers transform standard analogue video surveillance cameras into proactive sentinels delivering reliable high performance video streaming and content analysis. The increased processing power of Mango's intelligent video servers enables MATE to continue development of robust, efficient and easy to use solutions for edge and centralized video requirements.
"There is a growing demand in the market for a sophisticated mixture of edge devices and centralized solutions to address various intelligent video requirements and match different video network deployments," said Aviram Segal, VP of Sales and Marketing at MATE. "MATE's superior analytics software and vast experience with DSP platforms allows us to take full advantage of the Mango intelligent video servers to deliver on customer requirements".
MATE's advanced technology accurately detects threats and suspicious behaviours according to predefined rules. The open architecture, scalability and flexible technology positions MATE as a leading global supplier of intelligent video integrated systems for homeland security, commercial security and safety, and retail markets.
"We are delighted to extend our partnership with MATE. The cooperation will allow OEMs and integrators in the security and safety market to offer their customers a cost effective, complete solution optimised for their needs,"
said Baruch Peled CEO of Mango DSP.
"Mango's processing capabilities combined with MATE's advanced video analytics provide a truly intelligent video solution."
Download PDF version
Download PDF version