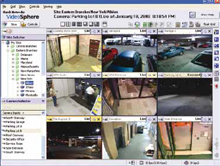 March Networks has provided IP video solutions to Ottawa Police Service
March Networks, a global provider of intelligent IP video solutions, announced that the Ottawa Police Service has standardised on the company's video recording system across its interview rooms city-wide to enhance evidence and case management and aid in convictions.

The recording solution is custom designed for police departments and is an integrated offering developed through March Networks' Certified Technology Partnership Programme by Microception, Incorporated. Called VideOversight, the solution is already used in more than 300 police interview rooms throughout North America. It combines high-quality video and audio of police interviews with powerful management software that enables officers to append related case notes, transcripts and other digital materials.

"This solution helps investigative teams work much more efficiently, leaving them free to focus on their case work rather than on managing and archiving evidence," said Net Payne, Chief Marketing Officer, March Networks. "Its proven reliability is also crucial, especially in instances where a conviction might hinge on a statement made by a witness or suspect."

The Ottawa Police Service has installed March Networks hybrid NVRs in 21 interview and breathalyser rooms across the city of 900,000, as well as in its cell block booking area. The networked systems enable authorised officers to watch live interviews from their desktop computers, so they can verify facts and contribute to interviews in real-time. The integrity of the system is ensured through permission-based access and audit reports detailing user activity.

"Our teams invest significant time and resources building cases, collecting information and interviewing suspects. Losing video evidence could risk an entire investigation and result in a criminal being set free," said Sgt. Iain Pidcock, Ottawa Police Service. "With this solution, we can access and manage case evidence quickly and easily, and know that the video records will be there when they are needed."
Download PDF version
Download PDF version