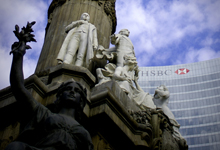 The footage provided by the Rainbow wide dynamic cameras is recorded on stand-alone DVRs from March Networks
Over 3,000 of
Rainbow's
1/3" wide dynamic range cameras have been used by HSBC at branches in Mexico City. These are tailored units whose firmware suits lighting conditions created by the client's glass-clad buildings. The cameras are modified versions of Rainbow's WDL54D models which capture highlight and shadow detail in the same scene while also offering true day-night images through use of a moving filter. The lens is a 2.8~12mm vari-focal.
The bank is benefiting from 540 TV lines and an ability to obtain footage at minimum illumination of 0.6 lux. These cameras have an on-screen display and the generic equivalent models in Rainbow's standard range are supplied with a three-year warranty.
While glass coverage has 'green' benefits in terms of heating and lighting, it can be problematic for suppliers of surveillance products. Traditionally, cameras suffer from lack of detail in high-contrast and back-lit situations, low clarity when shadow is predominant and image 'washout' from glare reflection which is a problem in banks if the teller is separated from customers by a glass partition.
HSBC is enjoying superior colour rendering and optimal exposure across a wide range of lighting situations including lobbies, main vault areas and within treasury office spaces.
With Rainbow's CCTVs, HSBC is enjoying superior colour rendering and optimal exposure across a wide range of lighting situations
The engineering values in these units reduce pixel blooming, vertical smearing and camera blindness - factors often known as 'noise.' The choice of camera was made by local integrators TECSIS who drew on extensive experience to conduct site surveys. Evaluation was made of the client's precise requirements, and the optical performance of many camera types was compared under these unusual conditions. TECSIS have worked closely with the client to enable bank staff to identify clear-cut incidents as well as observing unusual patterns of behaviour.
Luis A. Cháves is Rainbow's M. C. Director for Latin America. He said:
"As a manufacturer who takes a broad view of on-site needs, we are aware that 'noise' not only compromises image quality but is wasteful of RAID/recording capacity."


He continued:
"Every aspect of this application was based on the demanding light conditions encountered at the bank premises. Few manufacturers have Rainbow's ability to meet such site-specific requests in this way while working on short lead times."


HSBC are recording the footage provided by the Rainbow wide dynamic cameras to stand-alone DVR units from
March Networks
.
HSBC's Mexico headquarters are in an affluent area of downtown Mexico City adjacent to The Angel of Independence. Two thousand eight hundred people work at this 12,000 square feet tower which has 36 storeys and cost $150m.
HSBC has operated in Mexico since 1970 and is the number four bank in the country with 1,360 branches and 23,000 employees. The bank is characterised by high-impact office design with the headquarters boasting a 4,000 square feet 'green' roof that dramatically reduces the structure's urban heat effect.
The wide dynamic camera in Rainbow's standard range that approximates to the unit used on this project has a 1/3"
Pixim
digital pixel system with 17-bit dynamic range with 32-bit digital signal processing. Users can select NTSC or PAL modes and video output is 1Vp-p 75 ohm.
Download PDF version