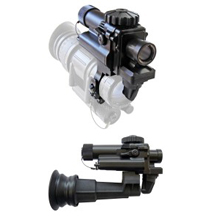 The Quick-View eyepiece attaches directly onto ClipIR mounting bracket to give thermal imaging hand-held display
Thermoteknix will launch a Quick-View eyepiece accessory for their ClipIR clip-on fused thermal imager at DSEI 2013.
ClipIR is designed to attach to Image Intensifiers (I2) to provide fused night vision, thermal imaging and I2. The new Quick-View eyepiece attaches directly onto the ClipIR mounting bracket to give pure thermal imaging hand-held display for the user and provides two-in-one capability (I2 fusion or handheld thermal monocular).
ClipIR is available with a range of brackets to fit most industry-standard monocular and binocular Night Vision devices including PVS 7, PVS 14 and PVS 15. Mil Spec ClipIR is unique in its 40° Field of View which matches the I2 for maximum situational awareness in all conditions.
DSEi 2013 visitors will have first-hand experience of ClipIR's performance in real-life night-time conditions in a dedicated Night Tunnel built on the Thermoteknix stand (S3-230, UK Group Pavilion).
British company Thermoteknix Systems Ltd is one of the world's leading innovators and manufacturers of thermal imaging technology including the MicroCAMTM range of ultra miniature, lightweight and very low power thermal camera cores and TiCAM thermal imaging binoculars. These will also be demonstrated on the Booth S3-230 at DSEI.
Defence & Security Equipment International (DSEi) 2013 will be held in London, ExCeL, 10 – 13 September 2013.
Thermoteknix MIRICLE & MicroCAMTM based products are not subject to US ITAR control but may require UK export licence depending on the end-user country and specification.
Download PDF version