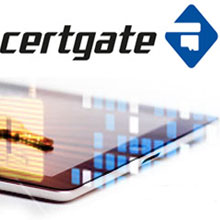 certgate demonstrated how on-demand authorisations for access control can be granted and withdrawn
certgate, the security innovator from Nuremberg, presented the new OTA (over-the-air) configuration technology during the 11th vps/Nexus customer day in Ettlingen. This enables NFC authorisations to be managed online on any smartphone.
vps ID Systeme GmbH, software producer of professional IT solutions for identity management, staged its 11th customer day on 13 and 14 June 2013 during which certgate GmbH showed different case examples for the OTA configuration. During the exclusive event certgate demonstrated publicly for the first time how on-demand authorisations for access control can be granted and also withdrawn. In the "mobile payment" segment the Nuremberg-based company also showed how simple and safe it is to use a smartcard combined with a mobile device to pay, load or block credit from a central point OTA and to see the current balance on the smartphone.
"Once again, we were able to impressively prove how versatile and secure the scenarios for using a smartphone in all business areas are thanks to our smartcard-based security. This innovation shows that in combination with an ID management system, such as SmartACT- Operator from VPS, a large number of possibilities are opened up for reacting quickly and easily to altered conditions. This gives the smartcards precisely the flexibility required by contemporary business processes and mobile users," summarises Stefan Schmidt-Egermann, Head of Business Development, speaking about the customer day. "The interest in solutions of this kind which can be integrated completely homogenously into existing workflows of corporate processes will become an established feature in future. The potential for savings is enormous – particularly because access authorisations can be granted to and withdrawn from employees also for offline doors and gates. The person does not have to return to head office as has been the case in the past but the transmission is made simply over the air," he adds.
Download PDF version
Download PDF version