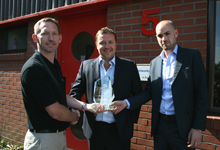 Networks Centre will promote and support the full range of IP video products manufactured by LILIN
Networks Centre
, one of Europe's leading Network and Cabling product distributors, has been appointed as an official UK distributor of
LILIN
equipment. Under the agreement Networks Centre will promote and support the full range of
ONVIF
complaint IP video products manufactured by LILIN. These will include - HD cameras, IR cameras, hybrid digital recorders, network video recorders, wireless transmission devices and video encoders.
Managing Director of Networks Centre, Duncan Lindsay said:
"LILIN is a global brand and they have made great strides in the IP video market. The brand has gained a reputation not only for quality and reliability but also as a leader through the launch of the world's first ONVIF compliant IP products. The LILIN range fits very nicely into the expanding portfolio of equipment we offer."


Jason Hill - Managing Director of LILIN added:
"We are pleased with the progress LILIN has made in IP video in the UK, however we want to increase our market share and continue with our rapid growth. We believe that we can further expand our business via distribution channels. Like us, Networks Centre have an excellent reputation and being an independent distributor they are a logical partner to move our business aspirations forward."


Networks Centre's warehouse is well stocked and their knowledgeable sales team are ready, waiting and available from 9:00 am to 5:00 pm Monday to Friday. Networks Centre strive not only to be the biggest, but to be the best, their aim is to ensure customers receive the highest level of supply, service and support.
More information can be found on
LILIN's website
and
Networks Centre website
, and or by contacting LILIN on +44 (0) 870 120 5550.
Download PDF version
Download PDF version