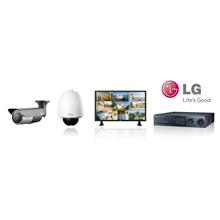 LG's complete line will be showcased in the Observint Technologies booth at ISC West
Observint Technologies has extended the company's strategic partnership with LG Electronics to bring LG's latest security solutions to market, including a complete line of megapixel IP cameras, hybrid digital video recorders, and security-optimised displays. LG, one of the world's leading manufacturers of consumer electronics, mobile communications, home appliances and security products, provides security products and technologies that are engineered to deliver exceptional performance, reliability and value. Observint has partnered with LG to build LG's North American distribution channel presence and market awareness. Observint is also providing operations, logistics, marketing support and U.S.-based technical support.
Already widely distributed and deployed around the world, LG's innovative video surveillance product portfolio now includes wireless HD network IP cube cameras, 1.3 and 3.0 megapixel IP cameras, a full line of hybrid digital video recorders (DVRs), in addition to the company's comprehensive line of analogue security products. These products are now available in the U.S. exclusively through Observint Technologies and its distribution partners.
"The outstanding performance and value of LG's video surveillance products provide an attractive alternative for security professionals," said Brian Wood, President and CEO, Observint Technologies. "LG's quality and reliability are second to none, and the performance of these products has been demonstrated around the world in every conceivable application."
LG's high-performance video products complement Observint's unique portfolio of professional video surveillance and security technologies, which includes infinias IP-based access control solutions, DIGIOP video and data management systems, and 3S Vision multi-megapixel cameras.
LG's complete line will be showcased in the Observint Technologies booth (#12087) at the ISC West tradeshow, in Las Vegas from April 10-12, 2013.
Download PDF version