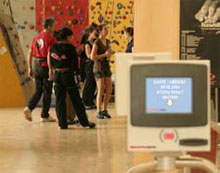 Contactless access control solution from HOTELDATA
The Weinburg therapeutic climbing centre was recently opened after a construction period which lasted thirteen months. The smooth guest management is assured by an access control and billing system from HOTELDATA based on LEGIC technology.
The soaring 17 meter high climbing gym is the highest in Austria and gets the heart of every climbing enthusiast beating a little faster. A wide range of facilities is on offer here besides general sporting and leisure climbing: from adventure and competitive climbing over boulders through to a dizzying high-rope course. In line with the therapeutic focus of the sports centre, climbing represents a therapy method for physical complaints and mental problems. The up-to-date and innovativeness of the therapeutic climbing centre in Weinburg are also reflected in the technology, which it deploys. The smooth guest management is assured by the professional SYMBIO all-in-one system - a tailor-made access control and billing system from the system provider HOTELDATA. Contactless LEGIC credentials are the technological basis of the access control solution.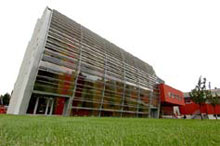 The recently opened therapeutic climbing centre in Weinburg, Lower Austria
Guests simply hold their individual LEGIC card against the multifunctional colour touch-screen terminal, which controls the various access control checks. If the guest has the appropriate authorization, he can pass through.
The VIO custom card is one particular way of ensuring customer loyalty. This way, regular guests who purchase a personalized annual card can avoid queuing up at the till because payments can be made, if required, by debiting their current account at the end of the month. This avoids queuing in the entrance area from the outset. Additional bonus credits provide an incentive for visitors to therapeutic climbing centre to purchase block tickets.
Download PDF version
Download PDF version