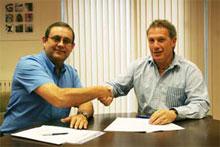 Leon Rose, Area Sales Manager at LEGIC and Ed Heyden, Managing Director of Securit World, are looking forward to a successful partnership
LEGIC Identsystems Ltd, the leading manufacturer of contactless smart card systems for personal identification applications and Securit World Ltd, leading suppliers of ID systems and printers, have agreed on a new licence contract. This will result in a broad range of products using LEGIC highly secure contactless technology and benefiting from Securit World distribution experience. Following this agreement, Securit World will be purchasing from several leading license partners. Many organizations including corporate companies, hospitals and universities are turning towards contactless technology for its ease-of-use and flexibility in comprehensive security. Access control and security solutions have become major requirements for organizations and LEGIC has been leading the way in that field by developing a cutting-edge contactless technology adapted to end-users' needs.
"The new partnership helps us to cover the growing demand for LEGIC in the United Kingdom and to widen our possibilities and expertise to our customers to enable them to choose the right credential solution", says Dr Otto Eggimann, Vice President Sales and Business Development of LEGIC.
The partnership with Securit World will present end-users in the United Kingdom with a broader variety of products offering LEGIC technology.
"End-users will benefit from the large choice of credentials designed to fit all the access control and security applications", explains Ed Heyden, Managing Director of Securit World. "With over 15 years of experience in the ID card market, we are happy to now partner with LEGIC", says Heyden. "Printing and encoding contactless LEGIC chip cards is easy thanks to our user-friendly plug-in interfaces with standard software solutions. The user can encode, read and segment both LEGIC advant and LEGIC prime cards. This greatly speeds up the card issuing process. With the push of a button, you can now produce printed and encoded LEGIC cards with minimum efforts."
All LEGIC advanced contactless solutions offer a powerful, comfortable and secure all-in-one card platform to increase efficiency and provide innovative business processes. The authorization management can indeed be covered for up to 127 different applications offering endless combinations in state-of-the-art security for end-users. Security is a major priority and LEGIC unique Master-Token System Control guarantees centralized and control over all issued identification credentials.
Download PDF version