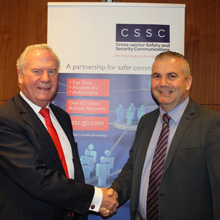 David will help to establish CSSC within the community & oversee the implementation of the initiative
The Cross-Sector Safety and Security Communications (CSSC) initiative – a partnership between law enforcement agencies, local and national government organisations and private sector businesses that operates under charitable status - is pleased to announce the appointment of David Ward, Managing Director of Ward Security to the position of Chair of the Southern region. The newly created CSSC Southern Region will cover Kent, Surrey, Sussex and Hampshire.
CSSC aims to help businesses remain safe
Operating across a wide range of sectors, CSSC aims to help businesses remain safe and secure by providing information that will assist them to develop robust resilience and emergency preparedness plans. This is achieved by delivering accurate, timely and authoritative messaging and information on an on-going basis and in times of major incidents. In 2013 CSSC received the Best Contribution to Continuity & Resilience award at the CIR Business Continuity Awards 2013.
"We are delighted to have David Ward on board as Chair of the newly formed Southern Region," explains Don Randall MBE, the Chair of CSSC. "His vast experience and deep understanding of the need for effective security across both business and public sectors will be a huge benefit in helping to further establish CSSC within the community and oversee the implementation of the initiative."
Logical next step in the further expansion of the scheme
"The original success of CSSC in London and Scotland proved the concept could be highly effective and the subsequent expansion into East Anglia illustrated how, with the right people in place, the initiative can be applied to different areas with great effect. The setting up of a Southern Region is the logical next step in the further expansion of the scheme and we are looking into setting up other regional schemes."
David Ward added, "The CSSC initiative is a crucially important way of bringing together stakeholders to maximum effect and I have been very impressed by the results of the London, East and Scottish schemes. As well as delivering a truly holistic security intelligence, communications and response infrastructure, CSSC succeeds in delivering the all-important feeling of 'security' within the community, which cannot be understated".
"I look forward to working with partners and stakeholders and helping to ensure that CSSC is as effective within the Southern region."
Download PDF version