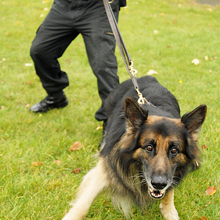 Ward Security will initially focus on training security dogs and handlers to help plug the shortage in the market
UK national security company, Ward Security has launched a sister company to meet demand for professional security training from private sector and state owned companies based in the Middle East and India. Ward Security International Training Ltd, will offer specialist security training programmes that will initially focus on training security dogs and handlers to help plug the shortage in the market.
The bespoke training programmes will be delivered by a team of experienced dog handlers and trainer and directly managed by Ali Tod who previously worked in the Metropolitan Police dog school which has the largest police dog breeding programme in the UK.
David Ward, Managing Director of Ward Security said "There has been little investment particularly in the Middle East into providing training programmes on dog security this means there are countries such as Dubai where there is a real difficultly sourcing experienced dog handlers and trainers. Exporting trained dogs is not really a short or long term solution as there is a lot of paperwork involved in air freighting and there is a need to ensure kennel management and animal husbandry is fully understood by the recipient country. You also need people on the ground able to train and manage dogs to a good operational standard. That is why we decided to launch an international training company where we can transfer our knowledge of breeding and training to countries that are in need."
Ward continues "The UK security industry operates under stringent British standards and consequently it has built a reputation for being the best in the World. We have met a number of private and state owned businesses based both in the Middle East and India who are all keen to use our services and we are confident expanding the business in this direction is a sound strategic move."
Brothers David and Kevin Ward founded Ward Security in 2000, as a security specialist company providing a range of security guarding services to private companies and public sector bodies throughout the UK. Today, the company employs over 460 people and operates from four offices around the UK. The company works with blue chip corporate clients such as Deloitte Real Estate, Savills, MJ Mapp, CBRE, London Borough of Bromley and the Metropolitan Police and has its Head Office in London.
Download PDF version