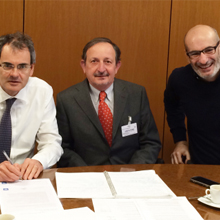 Successful collaboration of Project Automation & Nedap on real-time parking monitoring in Verona is a result of this partnership
Project Automation has been announced as Nedap's Certified Partner for Wireless Vehicle Detection.
Real-time monitoring of on-street parking spaces
Project Automation is a leading name in 'telemetering, monitoring and control system engineering' applied to the Environmental Monitoring, Mobility Supervision and Control, Public Transport Management Systems. The Italian company specialises in integrating innovative electronic and telematics technologies to produce complex systems and equipment. One of the systems offered by Project Automation is the real-time monitoring and control of on-street parking spaces for enforcement and traffic guidance. The successful collaboration of Project Automation and Nedap on real-time parking monitoring in Verona is a result of this partnership.
"Project Automation SpA is an engineering company providing innovative and smart solutions for the mobility market. Our solutions integrate software, we develop and market technologies. So, when we have analysed the on-street smart parking market, we have performed a deep benchmark on the available and ready-to-use bays occupancy monitoring technologies. We have selected Nedap based on the proven track record word-wide, high accuracy in detection, robust communication network and good co-operation in projects we have realised in Italy. It is thus not a coincidence that we became Nedap certified partner for wireless vehicle detection systems. During the last years of collaboration we and our customers have had no one reason to rethink on our choice." says Davide Bogni, Business Unit Manager Integrated Management Information Systems at Project Automation
About the Certified Partner Program
The Certified Partner Program allows partners to get recognised as a committed Nedap partner. Moreover, they obtain access to benefits related to this program, such as additional sales tools, marketing resources, combined marketing opportunities and additional access to technical information and trainings related to products.
Download PDF version