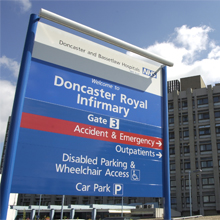 ASSA ABLOY cam action door closers ensure that the doors are light to open while retaining closing power
A South Yorkshire District General Hospital has been supplied with a range of hardware by ASSA ABLOY Security Solutions, a UK division of ASSA ABLOY, a provider of door opening solutions.

South Yorkshire hospital is a 500-bed hospital, run by Doncaster and Bassetlaw Hospitals NHS Foundation Trust. Each year the hospital treats around 150,000 patients along with 95,500 A&E patients.
Meeting equality regulations

Foris Solutions worked closely with the Estates and Facilities team at the hospital to explore a range of hardware solutions. ASSA ABLOY cam action door closers were supplied, to ensure that the doors within the hospital are light to open while retaining closing power; ideal for use by disabled people. This assists in helping to meet the requirements of The Equality Act, specifically BS8300 and Approved Document M of The Building Regulations.


Performance in high-usage areas

In addition, ASSA modular lock cases were supplied, which are engineered to offer a smooth performance in high usage areas over a number of years, ASSA classic lever handles were also provided.

Simon Barrett, Capital Projects Manager at Doncaster and Bassetlaw Hospitals NHS Foundation Trust, said: "South Yorkshire hospital has a historic relationship with ASSA ABLOY Security Solutions, and ASSA products are specified throughout the hospital, so it made sense to specify hardware from a brand that we know we can trust."

Health sector experience

Mark Thompson, Director at Foris Solutions, said: "ASSA ABLOY Security Solutions have a wealth of experience working within the health sector, we knew that they would be able to provide a reliable hardware schedule, which will be able to stand the test of time, regardless of the high frequency of use."

Sean Falkinder, Regional Sales Manager at ASSA ABLOY Security Solutions, said: "Public-sector budgets are being squeezed hard as the government strives to deliver its planned reduction in the Budget deficit. Facilities managers in hospitals are charged with the difficult task of prioritising budgets for all areas of maintenance in hospitals. We are increasingly seeing the longer-term cost of projects becoming more of a priority; we supply quality products that offer good whole life costing, through reducing maintenance, repair and replacement expenditure."
Download PDF version