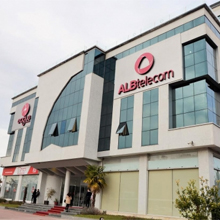 Anviz VF30 and T5 Pro biometric access control devices are installed to meet the security requirements of ALBtelecom
Anviz Global has recently supported Shpresa-AL GROUP to implement a fully-customized and high-tech access control system to meet the needs of their latest partner, the ALBtelecom in Albania.
Installation site:
The whole building of ALBtelecom in Albania.
Requirements vs. solutions:
The ALBtelecom Company was created in 1912, right after the Independence of Albania and was licensed to provide fixed telephony and internet services by the Entity of Telecommunications Regulation (ERT) in 1992, continues to be an indispensable part and the first choice of the Albanians when it comes to communication. ALBtelecom has about 1400 employees all around Albania. Its shop network, which continues to expand, counts 150 shops. The company has high-level security requirement and would like to search a security company to provide such kind of solution.
Hardware: Anviz VF30+T5 Pro (Fingerprint + Card + PW access control device)
Software: AIM Software
Benefits:
The security of ALBtelecom in Albania is well protected by Anviz's professional access control system. And ALBtelecom is deeply impressed by the well performance of the Anviz system, and also satisfied with the excellent pre-sale and after sale service from Anviz core partner Shpresa-AL GROUP.
Anviz's solutions for ALBtelecom in Albania:
Advanced BioNano algorithm;
Total control of personnel entries and exits;
Remote access to the system;
Anviz's easily adapted software to meet ALBtelecom's needs.
Save
Download PDF version