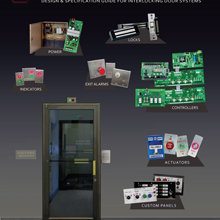 The brochure displays the company's complete 4000 series of door interlock and mantrap control products
Dortronics Systems, Inc. debuts USB packaged brochure at ASIS featuring the full line of door interlock and mantrap control products including the 4300, 4700 and 4900 series along with the 5277 series of illuminated door control switches, plus basic system drawings and operation and a checklist for system configuration.
The new information displays Dortronics' complete 4000 series of door interlock and mantrap control products, ranging from simple two-door units to custom-programmable, 128-door, multifunction units. The illuminated stainless steel 5277-PZL Series Piezo Switches, also featured in the brochure, offer weather-resistant and rugged stainless steel construction with highly responsive actuators.
"Our new electronic brochures provide a convenient reference for our door interlock and mantrap control capabilities and helps to guide integrators in choosing the right system for any application," said Bryan Sanderford, National Sales Manager, Dortronics Systems, Inc. "The use of PLC-based controllers expands the flexibility in designing these systems and opens up a world of new capabilities, including complex air locks, clean room environments and security mantraps."
The Dortronics 4300 Series is a low-cost base model configured for standard two-door applications. Dortronics' 4700 series Mantrap Control systems are PLC-based controllers that can economically control up to four normally unlocked doors or three normally locked doors. Dortronics' 4900 Series Interlock Control is designed to handle systems of over 100 doors.
In addition to withstanding the elements, the 5277 Series red/green/amber LED illuminated door control switches can be custom-engraved. They are ideal for a range of conventional and demanding door control applications including automatic doors, electric strike locks or magnetic locks, as well as remote bypass (REX) input of an access control system.
Download PDF version