Bosch CCTV Multiplexers
(2)
Multiplexer products updated recently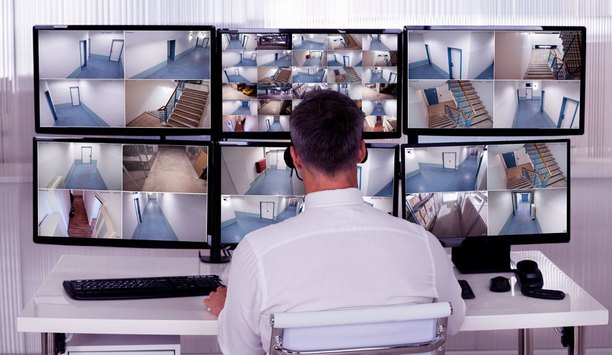 Technology evolution leads to changes in security control room furniture
Technology is changing the look and function of today's security control rooms. Old-school CRT (cathode-ray tube) monitors are giving way to the thinner, flat screen monitors in the control room environment, but the transition is gradual. Randy Smith of Winsted still sees many control rooms that need to make the conversion, which is a boon to his company's business. Furniture today is designed differently to accommodate the thinner monitors, often with larger screens. Need for integrated rack systems With the increase of IP-based systems comes the need for integrated rack systems that include advanced functionality such as cable management, adds Jim Coleman, National Sales Manager, AFC Industries. Server rooms are environmentally controlled by cooling systems and power systems monitored on the IP network. Low-profile flat screens allow centres to utilise space vertically, thus creating a smaller footprint for the consoles. Additionally, with IP-based systems, workstations will have a smaller footprint because there is less cumbersome equipment. In most cases the servers are stored in a secured, climate controlled environment to eliminate overheating of the servers and maintain their security, says Coleman. This environment also helps with cable and power management. AFC builds technical furniture racks that adhere to the precise needs of computer network server room operators. The company designs and fabricates LAN workbenches with versatile functionalities, and server room workstation racks that are scalable. There is a complete line of IT workbenches, IT computer racks and computer server rack mounts with flexible mounting options. In most cases the servers are stored in a secured, climate controlled environment to eliminate overheating of the servers and maintain their security Flexible control room designs Matko Papic, Chief Technology Officer of Evans Consoles, says the transition from bulky CRT equipment to flat-screen (lower profile) monitors was a major disruption in control room design; it changed the whole dynamic. Another evolution is the use of IP video streaming, which allows more flexibility in manipulation of audio-video content, and requires more flexible control room designs. Another shift, driven by larger, higher-definition monitors, is a shift to fewer monitors that display more information. Instead of a smaller monitor for each information stream, larger monitors now consolidate that information into "dashboard" displays. Looking ahead, control rooms will need to be more flexible, both in the initial design and the ability to adapt to changing technology, says Papic. Legacy customers who are currently using PCs may be moving to more remote applications. Sit-stand equipment will continue to be increasingly prevalent. "There will be more emphasis on flexibility, technology integration, and the ability to change over the life of the system," says Papic. Consolidation of multiple operations into a single system A trend in security is consolidation of multiple physical operations into a single system, says Papic. As a result, more customers are taking more interest in alarm management and situational awareness. How is the technology being used in terms of alarm triggers? How can the systems react rapidly and provide information to a larger audience in the control room? These questions impact how control rooms are designed, and Evans Consoles can adapt lessons learned from other markets to these trends in the security arena. Greater use of technology is inevitable, says Coleman of AFC Industries. "It is virtually impossible for humans to monitor all security data at the street level in our cities," he says. "As computers become more powerful and their programs more all-encompassing, we will see a greater shift to robotic and technology uses that will provide enhanced monitoring capabilities and safety Read our Control Rooms series here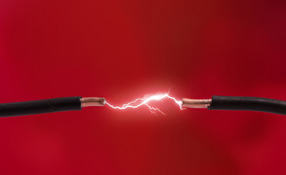 Choosing the right power supplies for security installations
Selecting the optimum power supply for a system is critical to an installation When it comes to selecting power supplies, knowledge is power. Determining the power requirements of every systems product, taking into account their integration with one another is critical to ensure that you are selecting and installing the power solutions most appropriate for your installation. Such information will enable you to select the power supplies that will be required to keep your security system running efficiently in the long run. Paul Rizzuto, Technical Sales Manager, Altronix Corp outlines some of the key factors to consider when choosing the right power solution for security installations - including those of video surveillance systems and access control systems - and fire alarm systems. Questions to consider when selecting the optimum power supply Before commencing the evaluation and selection process, three fundamental questions/issues need be addressed:Approvals and conformance to norms: Are there any specific agency approvals that the installation must conform to?Each state, county and even municipality has their own requirements regarding agency approvals. There are a variety of compliance issues such as UL listings for video, access control and fire/life safety that need to be adhered to along with specific local codes. It's imperative that you check with the local AHJ (Authority Having Jurisdiction) to find out what agency listings you must conform to during the design process to assure your security system is in compliance before installing any components and power supplies. Features required: What are the application specific features required for the installation? Selecting power supplies for a security or fire alarm system is a complex process due to a number of variables Before starting the design process, a comprehensive analysis of the facility's security systems are required to determine feature sets of the power supplies. Up until recently, selecting power supplies often required the need to combine various components to deliver the functionality desired. For example, does the system need battery back-up in case of a power failure? All that has changed with the introduction of a new breed of integrated power solutions that deliver both cost and installation advantages. Quantity, location and power requirements of the security system componentsWhat is the number of devices in the system, the power requirements for each, and their physical location?This information is necessary to determine the size and quantity of the power supplies, how many security devices they will run, and where they will be physically located. It is always a good rule of thumb to add 20% more power to your calculations as a safety factor. Alarm signal generation is a key consideration when dealing with power consumption in fire alarms systems Dealing with power consumption issues in fire alarm systems Power consumption is a primary issue when configuring fire alarm systems. One of the most critical considerations revolves around how alarm signals are activated. When an alarm condition exists, Notification Appliance Circuits (NAC) are output from the Fire Alarm Control Panel (FACP) to activate notification appliances such as strobes and horns commonly used to indicate an emergency situation. The number of notification appliances to be activated, along with the current draw for each device and its distance from the FACP, sometimes makes the deployment of NAC Power Extenders a necessary system component. For example, in large commercial installations or multi-tenant buildings, the total current draw of the notification appliances may well exceed the power output of the FACP. In these instances, one or more NAC Power Extenders need to be installed for those notification appliances where the wire runs are too long for the FACP to deliver sufficient power. Features to consider when selecting a NAC Power Extender: Number of Class A or Class B indicating circuits.Total power rating (ex. 6.5 amp, 8 amp or 10 amp).Number of Aux. power outputs with or without battery backup.Programmable outputs: SynchronizationTemporal Code 3Input to output follower mode.Enclosure capacity: Room for battery backupAmple knockouts and room for wiringAgency approvals UL, MEA, CSFM and FM.NAC Power Extenders are available with programmable features that maintain horn/strobe synchronization by either producing internally generated sync protocols utilized by major signal manufacturers, or by electronically repeating these sync protocols from the FACP outputs. Power supply requirements for access control systems - key standards to follow To ensure safety any device designated to lock or unlock an exit must be connected to the fire alarm systemAccess control systems manage entry and exit points at a facility by means of controlled locking devices. NFPA (National Fire Protection Association) requires that any device or system intended to actuate the locking or unlocking of exits, must be connected to the facility's fire alarm system so that all doors will release when an alarm signal is generated.To comply with NFPA requirements, there are two classifications of locking devices that need to be addressed: Fail-Safe and Fail-Secure. Fail-Safe locking devices such as magnetic locks release when they lose power. Fail-Secure locking devices such as electric strikes unlock when power is applied and may be manually released from inside a secured area. This determines the manner in which your power solution removes or provides power and the sequence and timing of each action.Access control power supplies come in both AC and DC versions and some provide multiple voltages simultaneously. Features include independently trigger controlled Fail-Safe/Fail-Secure outputs, power supervision, battery charging and fire alarm interface. Wall and rack mount models are also available.To comply with NFPA requirements, there are two classifications of locking devices that need to be addressed: Fail-Safe and Fail-Secure Some systems may also require the installation of panic hardware devices. Upon activation, the devices' high current power demand can reach up to 16amps, but not all power supplies can handle these high inrush currents. As a result, you need to specify a power supply designed for this type of application. Some operate a single panic hardware device and require optional modules to add features like timing functions, output relays, fire alarm disconnect, or power for additional panic hardware devices. Therefore, these "base" models almost always require additional modules to deliver the functionality you need and may not be cost effective. More advanced models offer integrated features and supply a comprehensive solution. In addition to the convenience of these integrated devices, they are highly cost efficient with respect to total cost of ownership and installation. Video surveillance systems - typical power consumption guidelinesVideo surveillance systems typically run 24/7/365 placing high demands on power supplies. These video power supplies need to deliver a clean and consistent source of 24VAC or 12VDC power to assure uninterrupted operation. Depending on the video component's specific power requirements and its location, there is a wide selection of power supplies to select from. They can be wall or rack mounted, designed for use indoors or outdoors, and feature AC or DC outputs. Configurations typically range from 1 to 32 outputs and some models offer additional features like 115 or 230VAC input with current ratings as high as 25 amps, power LED indicators, and PTC or fused protected outputs. Certain models provide both 24VAC and 12VDC to power both types of surveillance cameras simultaneously. Environmental conditions can affect the performance of video components and the power supply when situated outdoors A few additional variables to consider when selecting video surveillance power supplies include: Environmental conditions: Temperature differences due to change of seasons, day or night, can often be extreme and can have a direct affect on the performance of both the video components and the power supply when located outdoors. Enclosures for outdoor power supplies should be rated to withstand the elements.Ground Isolation: In some cases, the surveillance cameras are not equipped with internal electrical isolation. Should this be the case, it's important to specify a power supply with this feature. Video Transmission Systems: For years, the use of structured cable has been an inexpensive method for transmitting video and data between head end equipment and camera systems. The introduction of UTP transceiver hubs with integral camera power make it possible to transmit both video and data via structured cable along with the power needed for the cameras. This is accomplished via video balun/combiners which pass the power and data to the camera and send the video back to the head end equipment. New highly versatile devices with integral power provide system designers with a highly integrated solution. This new breed of integrated device greatly reduces the time and expense of configuring and installing separate components while helping to minimize bandwidth requirements for large security systems. Paul RizzutoTechnical Sales Manager Altronix Corp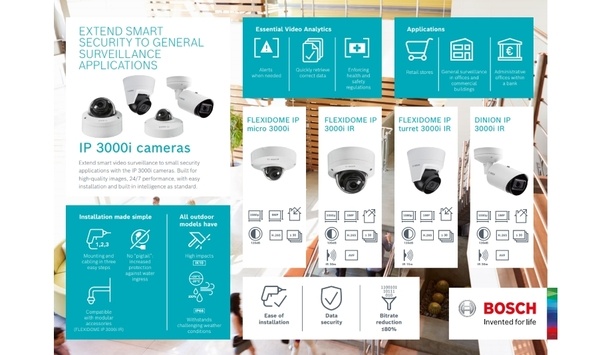 Bosch launches IP 3000i cameras to provide cost-effective video surveillance solution to its customers
IP 3000i cameras offer something that the market has never seen before in such competitively-priced cameras; built-in Essential Video Analytics as standard. It opens up new possibilities for IoT applications and smart data capture that help to improve security and even go beyond it with video analytics features such as detecting blocked emergency exits or queue notification. Smart solutions that until now, have not been available to customers looking for a cost-effective video surveillance solution. Advanced intrusion detection Previously, built-in intelligence was only available from the IP 4000i range and above. But, true to our philosophy of offering intelligent systems for everyone, applications suitable for such cameras can now also benefit from solutions that go beyond security and obtain valuable data for business intelligence. The IP 3000i portfolio includes a range of four form factors that are highly affordable Essential Video Analytics is perfectly suited to these smaller applications because it can be used for advanced intrusion detection such as identifying a person entering a pre-defined field, loitering, or leaving an object behind. Another use case for Essential Video Analytics is it can be used to enforce detected blocked exits or analyse behaviour including people counting which can be used to improve customer service. So in addition to a competitive price tag, IP 3000i cameras add even more value for businesses. Everyday surveillance in standalone installations The IP 3000i portfolio includes a range of four form factors that are highly affordable. It offers complete flexibility for everyday surveillance in standalone installations such as small retail stores or for general surveillance in commercial buildings, offices and banks. Even general security applications rely on excellent image quality to safeguard people, premises, and property. With this in mind, Bosch IP 3000i cameras offer resolutions from 1080p up to 5MP, up to 30 fps and a High Dynamic Range of 120dB. The outdoor models also have built-in infrared as standard, enabling them to capture high-quality images – even in complete darkness. The FLEXIDOME IP turret camera also has this infrared feature for indoor surveillance. Providing greater protection One of the key advantages of choosing Bosch security cameras is ease of installation. The IP 3000i cameras are no exception. Mounting and cabling for these cameras are split into three easy steps, eliminating the need to juggle the camera and power tools and making the whole process significantly easier. IP 3000i cameras can easily be combined with DIVAR hybrid and network units for a plug and play solution The mini dome and turret versions come with a new mounting plate that helps to achieve this. The bullet base already behaves as a mounting plate and the micro-dome is directly mounted. The FLEXIDOME IP 3000i IR is also compatible with our modular accessories. Also, the 'pigtail' on all form factors has been replaced with cable management that enables clean, streamlined installation through a grommet with a smaller hole to provide greater protection against water ingress. Video security solution An RJ45 connector can be threaded through the grommet using a special tool bundled with every camera. This eliminates the need for installers to terminate the RJ45 cable during mounting. Finally, should a complete video security solution be required, IP 3000i cameras can easily be combined with DIVAR hybrid and network units for a plug and play solution. IP 3000i cameras offer Intelligent Dynamic Noise Reduction and intelligent streaming, combined with H.265 video compression. Depending on the content of the scene, this reduces bitrate by up to 80%. It helps to keep video data manageable, while substantially reducing network strain and storage requirements – all without compromising the quality of the video being captured. In addition, like all Bosch network cameras, the IP 3000i models are designed with various hardware and software measures to keep video data secure, including a built-in Trusted Platform Module to safeguard encryption keys.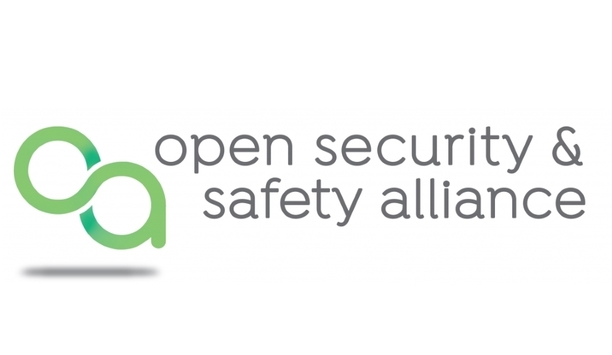 Open Security & Safety Alliance celebrates its 1st anniversary in the security industry
The Open Security & Safety Alliance (OSSA), an industry body comprised of leaders, influencers and innovative organisations from all facets within the security, safety and building automation space, celebrates its one-year anniversary. Within its first 12 months, OSSA attracted 30+ members ranging from device manufacturers, software developers and system integrators to distributors and system on a chip (SoC) companies – helping lay the groundwork for improved security, safety, building automation and business intelligence solutions. Open security and safety ecosystem We're truly pleased at the progress achieved in just our first year by establishing an open security and safety ecosystem" "Through OSSA, we have competing and complementary institutions reaching across aisles and stepping outside of their brands to work together to push our whole industry into a new, more prosperous and efficient direction," said Johan Jubbega, President, Open Security & Safety Alliance. "We're truly pleased at the progress achieved in just our first year by establishing an open security and safety ecosystem comprised of 30+ renown companies, and having a market-changing digital marketplace and first commercially available video security camera offerings underway for year two as the Alliance continues to provide guidance and interpretation of common standards and specifications to promote more intelligent, productive solutions for users." Operation and maintenance of products Currently, security and safety solutions are fragmented and there is no collaborative approach to systems working together for bigger-picture success. Large amounts of data are left untapped in siloed systems that through cooperation can instead be utilised for better living, safety and security purposes. OSSA's mission is to work with market players to all start from the same 'recipe' when it comes to the development, deployment, operation and maintenance of products, software and services. The Alliance's vision is that the majority of the security and safety industry works with a common, vendor-agnostic operating system (OS) and IoT infrastructure – and agrees to implement or adhere to common approaches defined for common challenges like data security, privacy, product performance and easy consumption of data across multiple solutions. Collaborative digital marketplace They also started to define the common approaches and establishment of a shared IoT infrastructure This will substantially fuel usability and trust when it comes to security and safety solutions that are built on the foundations set forth by OSSA. From there, companies can differentiate through apps by way of a collaborative digital marketplace – similar to how we all access/download/use applications between an app store and our smart phones and other digital devices. Already within its first year, OSSA member companies created the first common Technology Stack specification including the definition of a common operating system for video security devices. They also started to define the common approaches and establishment of a shared IoT infrastructure, including a digital marketplace. This framework allows the trapped – and mostly unused – data captured by any brand of device to be unleashed and available for good purpose. It also reduces friction when conceiving, deploying and maintaining security and safety devices, systems and settings and inspires innovation by opening the doors to data interpretation and possibilities. This platform revolution that OSSA envisions will benefit everyone involved. Significant outputs from Alliance workgroups Significant outputs from Alliance workgroups over the past 12 months include: Documentation of a common Technology Stack including the definition of a common vendor-agnostic OS. First description of a common market approach to data security and privacy. OSSA member Security and Safety Things GmbH (SAST) realised a first version of its OS as set forth in the common Technology Stack defined by OSSA – enabling the creation of prototype cameras. Together with SAST's first open app store for security cameras, various innovative applications were showcased this year from ISC West 2019, IFSEC 2019 and GSX 2019. The commercial launch of the platform is planned for Q1 2020. OSSA members fulfilled their first prototype cameras based on the commonly defined Technology Stack and OS, and showcased them throughout 2019 at ISC West, IFSEC and last week from GSX. Change for the betterment of the industry The Open Security & Safety Alliance's five founding companies – Bosch Building Technologies, Hanwha Techwin, Milestone Systems, Pelco™ and VIVOTEK Inc – are joined by 25+ other inventive international players that currently comprise the OSSA member roster. The Alliance is designed to include everyone and offers membership levels to meet the needs of companies big or small. Benefits of joining OSSA include access to the Alliance framework and the ability to connect, discuss, influence and collaborate with other Alliance members to steer change for the betterment of the industry.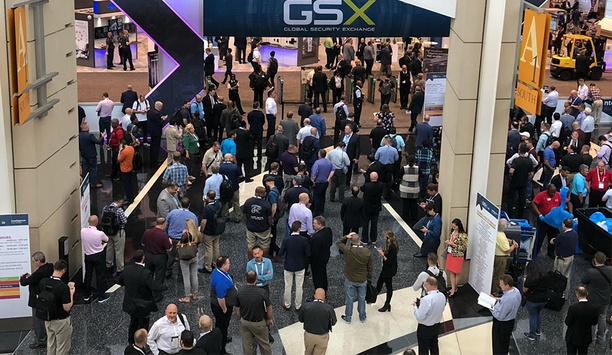 GSX 2019 Day Two Review: From individual products to the 'big picture'
One of the common characteristics of trade shows is booths with walls and walls of new products. Sometimes exhibitors seem intent on displaying everything in their portfolio, even though the displays appear cluttered and may not be welcoming. In an age of system sales, in particular, the emphasis on products can seem off kilter. Discussions with exhibitors at this year's GSX show reveal a new awareness of the need for less cluttered booths, but the equipment walls persist. Here's a review of Day 2 from the show floor. Allegion embrace more open booth design At GSX 2019, Allegion is among the exhibitors embracing a new, more open booth design that encourages engagement with customers and puts less emphasis on product displays. Discussions at the Allegion booth have centred around the value proposition and lower complexity of network-connected access control systems. The approach has been gaining a higher profile at Allegion since the company acquired Isonas, whose system configuration involves a reader-controller connected to the network via power-over-Ethernet cable. "Customers are also asking about Bluetooth technology and mobile applications," said Jonathan Mooney, Allegion sales leader. Allegion is looking to deploy the Isonas software in other products in their portfolio; it will be offered in the range of Schlage wireless locks by the middle of 2020.The benefit of the cloud and network is to remove a lot of complexity and unnecessary costs for access control" "The benefit of the cloud and network is to remove a lot of complexity and unnecessary costs for access control," said Mooney. Bosch offer complete security solution Bosch is introducing 55 new products at GSX 2019, but when it comes down to it, the company's overarching message is not about individual products but about how they can be combined into a larger system. "At the end of the day, the message from Bosch is 'how do I create a complete security solution?'" said Paul Garms, Bosch Director, Regional Marketing Security. "That's what we are trying to demonstrate: How do all these things integrate?" Most of interest to attendees are actual demonstrations, which are a unique aspect of the trade show experience. "It's nice at a show where we can really demonstrate what we are talking about when we say 'integrated solution,'" said Garms. "And people can say, 'oh yeah, if I trip this video analytic, the speaker will warn me I am approaching a restricted area.' Or, when the manager signs in on the intrusion panel, now the associate can access a door he wasn't able to before. It's that integration and the complete solution that resonates. People are also interested in new products. At a show, they like to see them in operation." At the Bosch booth, there is a big wall that illustrates some integration possibilities. An array of cameras was among the 55 new products introduced by Bosch, which also emphasised systems. Machine learning and advanced video analytics One implementation featured on the wall is Bosch's Camera Trainer machine learning system. The system can "train" a camera to recognise a car in a parking lot, for example. Among the new Bosch products is the Autodome 7000i, the next generation of a best-selling camera, now with H.265 encoding and analytics such as line crossing. There is also an outdoor panoramic camera that is adjustable to 180-degree or 360-degree views. The new, less expensive 3000i series cameras provide an affordable option with edge analytics and Bosch's data security protection included. Integration from Honeywell as well as 'the bigger picture' At Honeywell Security Group, Senior Product Manager G. Eric Green said the show seems to be much better attended than last year, "and we have had a lot of interest in our products." Even end-user attendees typical of the GSX show are interested in the details of technology, as well as "the bigger picture," commented Green. "Some of our booth visitors want to get into the weeds," he said. "They say they want this piece of hardware. But they also also interested in the big picture. How things are interacting is very important." Honeywell announced the 30 Series IP cameras, which can be used as part of video systems that comply with National Defense Authorization Act Section 889" "Most customers have installed products from other vendors that they expect us to work with. So integration is always at the top of the list. Can you work with these guys? Do you have an API? Do you support this piece of equipment? We always hear that a lot," said Green. "There are customers who want best-in-breed products, but they're not necessarily concerned about that coming from one manufacturer," he said. "Other customers want 'one throat to choke.' When something goes wrong, they don't want any finger-pointing." Web-based security console and frictionless access control Honeywell is showing a beta version of its Pro-Watch 5.0 product, which is coming out in Q1 next year. It is an integrated security console that provides a map view of access control, video management, intrusion and other third party systems. The web-based platform offers access to each element, all controlled by permissions. "We are also building in an incident workflow engine that allows an operator to see exactly what steps he should take when something occurs as defined by the supervisor or a security director," said Green. "It can literally walk you through, and it is completely freeform. Whatever you want it to say, it will say. This works in conjunction with access control, video, and all the things we talk to." The Honeywell booth was a busy place on day two of GSX 2019 Another new Honeywell product is the OmniAssure Touch reader, a "frictionless" device that can read a credential off a smart phone in a user's pocket. The user merely touches the reader, and it scans the area for a nearby mobile device that is authorised, and you can walk through the door. Honeywell also announced the 30 Series IP cameras, which are encrypted and can be used as part of video systems that comply with National Defense Authorization Act Section 889. They are made in Taiwan. Arcules' cloud security solution "There are fewer people here at GSX 2019, but we have seen a lot of really big companies looking for a cloud service," said Andreas Pettersson, CEO of cloud video company Arcules. At previous shows, questions about the cloud often seemed out of curiosity. Now, potential customers are more decisive: They say "we want to move to the cloud." Pettersson theorised that concerns about a possible weakening economy may prompt some companies to avoid the large capital expenditure of procuring a new on-premise system and instead opt for the minimal investment needed for a cloud system. Monthly operating expenses of a cloud system are also predictable and more easily managed, said Pettersson.At previous shows, questions about the cloud often seemed out of curiosity. Now, potential customers are more decisive Arcules is proactive on the subject of cybersecurity and has a two-page handout that summarises the cybersecurity advantages of their system. They are eager to talk about cybersecurity as it relates to cloud systems, said Pettersson. He said that, in his experience, on-premise systems tend to have more cybersecurity issues, whether because ports are left open or a firewall is implemented incorrectly. Users may also seek to bypass the firewall — a dangerous practice that is not an option with cloud systems. Security patches may not have been implemented; in a cloud system, such updates are pushed out automatically. The recurring monthly revenue (RMR) aspect of cloud systems are a windfall to integrators who embrace the cloud. "One integrator said he went on vacation for the first time in years because he had the extra money coming in," said Pettersson. Control room integration from Vistacom "We're still fairly new to GSX, as our first show was 5 years ago, but what we have noticed is that the show continues to attract valuable attendees and drive critical conversations around what companies like ours must bring to the table in order to be successful in this space," said Dan Gundry, Director of Sales and Marketing, Vistacom. "We've had so many chances to learn from and share with potential customers and partners, and as a result, we continue to forge great relationships." Vistacom is highlighting its control room integration and the value enterprise organisations can gain from implementing one in their facility. The company works alongside end-user customers and security integrators to build a command centre space, taking into account video wall display technology, operator consoles and furniture, audio and lighting considerations, as well as temperature and more, in an effort to optimise these centres. Stay tuned for the full GSX 2019 show review.
Featured white papers
A blind spot in governance, risk and compliance
Download
H.265 High Efficiency Coding: Video compression for security applications
Download
How to overcome the storage challenges of adopting surveillance AI
Download