Codelocks Mechanical / Digital Door Locks
(26)
Browse Mechanical / Digital Door Locks
Mechanical digital lock products updated recently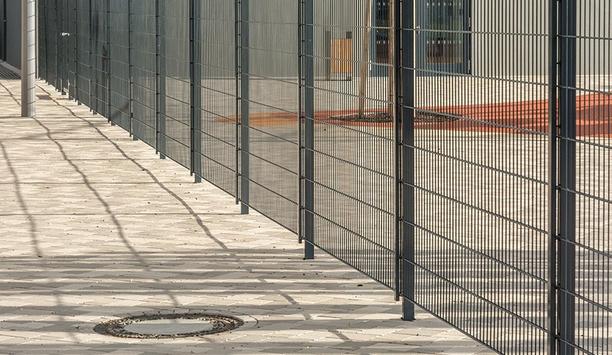 How schools can make outdoor learning safe and secure
Schools were never designed and built with social distancing in mind. So it's perhaps not surprising that as children returned to schools for the autumn term this year, the prospect of outdoor classes and assemblies was mooted in the media and by the Government. Many in the education sector are making the case that, should there be further COVID-19 outbreaks, in the coming months, it would be better to utilise outside space, rather than resort to closing schools. In the COVID-19 era, head teachers are considering taking learning and large gatherings, such as assemblies outdoors, when possible. Managing 'class bubbles', hygiene and ventilation While Dr. Yvonne Doyle, the Medical Director of Public Health England (PHE) has publicly reassured parents that schools are not the 'drivers' or 'hubs' of COVID-19-19 infection in communities, there is a lot of pressure on school leaders to manage 'class bubbles', extra cleaning and hygiene, ventilation, and COVID-19 testing, to protect families and staff. It's a logical step to switch, in certain circumstances, to outdoor activities where fresh air is on tap, and social distancing is far easier to manage. Specially built outdoor classrooms Across the school and nursery sector, there's ongoing investment in specially built outdoor classrooms Across the school and nursery sector, there's ongoing investment in specially built outdoor classrooms, which had been growing in popularity, even before the pandemic. These facilities offer numerous benefits as an extension of existing learning spaces and provide children the opportunity for hands-on learning, beyond a stuffy classroom. However, if outdoor spaces are routinely called upon as part of COVID-19 contingency planning, how can schools ensure that their outdoor classrooms and wider areas are secure, robust, and fit for purpose? When specifying outdoor classrooms and learning spaces, it's essential to take into account the well-being of the students and staff, who will use them, noise pollution and acoustics. Most importantly, education managers need to ensure the surrounding area is secured and adequately protected from threats, including terrorism. Perimeter security measures for schools How can schools and nurseries secure their perimeters, so that outdoor learning is totally safe for all? A starting point is to seek out architects and suppliers, who have a good understanding of security standards. Worryingly, Jacksons Fencing's research recently found that only one-third of architects are seeing both LPS 1175 and the UK police initiative, Secured by Design (SBD) physical security standards, specified for schools. This highlights a lost opportunity for architects to propose solutions that are appropriate to the level of risk and needs of the school, without turning the site into an unwelcoming fortress. Helping schools identify specific security needs Head teachers would be wise to work with architects, who not only know the latest security standards inside and out, but are also are willing to play a more advisory role, helping the school identify exactly what is needed. Head teachers should prioritise solutions appropriate to their site's specific risks It's also vital that architects don't simply replace existing fencing and gates, with the same security systems that have been in place for years. Instead, they will need to meet changing needs and risks. Our research finds that teachers often report issues, with the school perimeter and gates, from being climbed over (28%) and causing injury, to gates not locking properly (10%). Head teachers should prioritise solutions appropriate to their site's specific risks, which sometimes require altering of existing measures. School fencing is an important aspect of any education site. As well as defining its boundary and making a visual distinction between public and private property, the fencing and gates that surround and secure a school, will typically meet a wide variety of other important criteria, including preventing unauthorised entry to the grounds, protecting pupils, staff, and visitors from accidents and injury, deterring theft and anti-social behaviour, and reducing the risk of malicious damage, and acts of terrorism. Welded mesh panels for perimeter fencing Popular options for schools include welded mesh panels for perimeter fencing or sports areas, and railing systems to act as demarcation, in order to control foot and car traffic. Within the outlying boundary, barriers, bollards and parking posts will keep pedestrians, and vehicles safe from each other, while timber fencing and gates can be designed to control the flow of people, around the grounds and reduce the areas, where students can be hidden from view. Automated gates and access control Perimeter fencing must be complemented with safe entrances and exits for vehicles and pedestrians. Every school has unique entry-control requirements, determined by factors, such as size, location and the local environment. These needs influence the decisions you make, when preparing technical specifications for school security gates. Do you require gates to be steel or timber, manual or automated, single or double leaf? Specialist suppliers will be in the best position to offer inputs on school gates, which typically need to offer solid security and durability, with a welcoming aesthetic. Specifying access control system When specifying a school access system, it's important to consider the areas of the school When specifying a school access system, it's important to consider the areas of the school, such as sports fields, car parks, and children's play and learning areas, and whether it requires playground segregation. Selected gates should meet the design of the fencing, to create a secure perimeter with no weak points, with automated gates conforming to all current safety regulations. . Noise pollution can be a problem as well, including noise coming in or leaving the school in residential areas. If more teaching is to be carried out outside, it's worth considering acoustic barriers to reduce noise in and around the school. Timber acoustic barriers for security and privacy Timber acoustic barriers offer security and privacy, and can reduce noise levels, by as much as 32 decibels (in laboratory conditions), so are ideal for city centre schools or those located close to busy highways. There are many ways to build an outdoor classroom. Timber products can help to create a welcoming environment, such as wooden shelters, pergolas, fencing, and decking. Always check that high quality timber, ideally guaranteed for 25 years against rot and insect attack, is being used to provide an attractive, cost-effective, safe and sustainable solution, for all weather conditions. DBS approved installers And of course, installers must be DBS approved, so that they can install outdoor classrooms, during school holidays, or within term time, with minimal disruption. The COVID-19 pandemic had a huge impact on schools and learning. While nobody wants to think of fresh outbreaks of the infection, or any other virus, installing an outdoor classroom made from high-quality, long-lasting materials is a great way to future-proof school learning and ensure safety, and preparedness. Putting extra thought and care into the security angle will provide schools with decades of protection against a host of unforeseen events.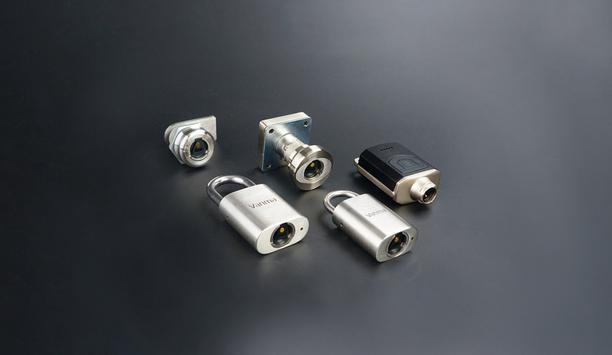 What about electronic door locks with remote control?
Most consumers are enjoying the convenience brought by electronic locks. With the existence of electronic locks, people no longer need to be restricted by keys. There are a variety of unlocking methods and more convenient remote control unlocking options. Suppose, you are going on vacation, and with the presence of an electronic lock, you can easily enter your house with your babysitter, without a spare key. Of course, not only smart homes, but also some infrastructure and commercial buildings are enjoying the convenience, brought by electronic locks. Passive electronic lock access control system This article will introduce a smart electronic lock used in the infrastructure industry, named passive electronic lock access control system. In traditional manufacturing, mechanical locks are commonly used in all walks of life, to protect the safety of property and facilities. However, the mechanical lock has caused many practical problems in the long-term application. For example, the keys are duplicated randomly, the unlocking authority cannot be controlled, the user's operation records cannot be known, and the remote control is not possible. Imagine that if you are in a remote telecom base station, it happens that you have the wrong key in your hand and cannot open the front door. In such a situation, this lock, maybe the worst scenario. In some industries, with a wide scope and large working area, more attention must be paid to access control systems Therefore, in some industries, with a wide scope and large working area, more attention must be paid to access control systems. In some outdoor scenarios, such as base stations and electric power cabinets, the requirements for access control systems are quite strict. Due to the particularity of its environment, ordinary power-based access control systems will no longer be applicable. Therefore, the emergence of passive access control systems has solved these problems. Electronic locks offer intelligent management function Based on years of in-depth field research, Vanma has developed the Vanma passive electronic lock access control system, based on the current situation of the industry. This system is different from other electronic lock systems, as it integrates the advantages of both mechanical locks and electronic locks. It not only has the simplicity of mechanical locks, but also has the intelligent management function of electronic locks. The term 'passive' of passive electronic locks means that no power is needed. Passive electronic locks have the same appearance as ordinary mechanical locks, so they can be installed anywhere, just like common mechanical locks. They also have a variety of practical functions of electronic locks. Authorised remote access control The Vanma management software allows security managers to assign access rights to specific areas, for different technical personnel. In order to facilitate real-time access control, the electronic key can be used in conjunction with the mobile phone app, in order to send information about its access rights to the technicians, in real time. Vanma management software can provide access to all operations performed by technicians Vanma management software can provide access to all operations performed by technicians, including complete audit reports. Access attempts outside the specified time range or outside the specified area can be obtained through the report, so as to analyse any abnormal situations. Access control in extreme weather conditions In the access control system, the lock (lock cylinder) maintains an extremely high standard and its protection level is IP67, to ensure the greatest degree of protection. Infrared induction technology is used in the electronic key, even if the surface of the lock is wet, the electronic key can also transfer the access authority to the lock cylinder. Ensure stable exchange of information between the key and the lock cylinder. In other words, a poor connection cannot prevent the transmission of information between the key and the lock. At present, this kind of passive electronic lock is widely used in many fields, such as telecom, electric power, water utilities, public utilities, medical emergency and so on in Europe.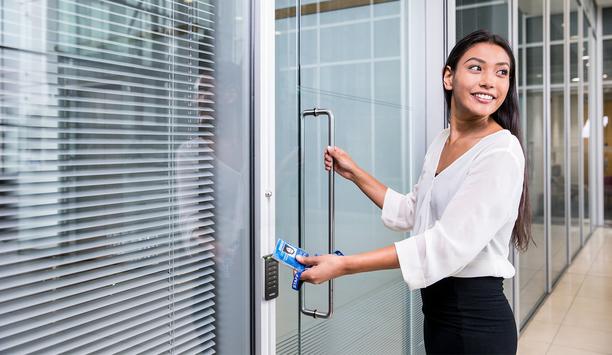 Open Supervised Device Protocol (OSDP) – what you need to know about modern and future proof access control security?
Access control and management of trusted identities are the building blocks of security, safety, and site management policies for many businesses and organisations. The current pandemic has compounded this with the introduction of new policies and regulations, particularly around social distancing and contact tracing. Most organisations will have some form of legacy access control in place, ranging from the most simplistic options, such as locks and keys, to technology-based systems. The issue with legacy systems of any type is that risks, just like technology, evolve. What was secure, convenient, and efficient a few years ago is often found wanting as the threat landscape changes. The standards governing the development and testing of physical access control systems (PACS) have also evolved to improve security and product interoperability. An example is the Open Supervised Device Protocol (OSDP), introduced 10 years ago as an alternative to the antiquated and vulnerable Clock-and-Data and Wiegand protocols. However, when it comes to planning infrastructure upgrades or implementing new tools, businesses must carry out due diligence to ensure the solutions are future-proof and deliver the expected level of security. Vulnerabilities and challenges In the early 1980s, Clock-and-Data and Wiegand protocols were widely adopted as the de-facto standard for interoperability between access control readers and physical access controllers. Those de-facto standards were later formalised and adopted into industry standards by the Security Industry Association in the 1990s. Wiegand is unencrypted and unable to protect from "man in the middle" attacks and vulnerabilities There were weaknesses, though, Wiegand is unencrypted and unable to protect from "man in the middle" attacks and vulnerabilities from the reader to the controller. Not only that, but Wiegand delivers limited range options and is operationally inefficient. It is also easy to target via its learnable language and a host of hacking devices available via online sources. Furthermore, the retrofitting installation alongside a legacy system is complicated for integrators and expensive for organisations, as most readers require dedicated home-run wiring. Extensive wiring on a large-scale project, such as a school or corporate campus, results in considerable — often prohibitive — costs for the installation of a PACS. Legacy access control protocol Despite the well-publicised vulnerabilities and weaknesses, Wiegand is still one of the most common protocols in legacy access control, with estimates indicating it is used in more than 90 percent of installed systems. This not only presents issues about physical security but also raises concerns relating to the protection of personal data. Access control systems not only contain information about who can and cannot use certain doors. OSDP is a communication standard Modern systems include a wide range of personal data, ranging from qualifications and certifications of individuals, home contact details, and even medical conditions or HR and employment information. With the potential fines associated with GDPR breaches, companies need to take this concern seriously. These weaknesses pushed the security industry to adopt a new protocol: Open Supervised Device Protocol (OSDP). This access control communications standard was developed by Mercury Security (now part of HID Global) and HID Global in 2008, and donated, free of intellectual property, to the Security Industry Association (SIA) to improve interoperability among access control and security products. Since then, it has been adopted as a standard by SIA, becoming the first secure, bidirectional reader/controller protocol to be governed by a major standards body in the security industry. In 2020 OSDP reached an additional milestone in becoming an International Electrotechnical Commission (IEC) standard. Why implement OSDP as a standard? OSDP is the only protocol that is secure and open for communication between readers and controllers The growth of networked devices, such as video and access control products, has led to an increased demand for converged solutions. Businesses and organisations recognise the value of implementing an integrated solution to enhance security and add value to technology investment. OSDP is the only protocol that is secure and open for communication between readers and controllers and is also being widely adopted by industry-leading reader and controller manufacturers. It is an evolving, 'living standard,' making it a safer, more robust, future-proof option for governing physical access control systems. OSDP offers important benefits: 1) Increased security Implementing OSDP standards can increase security, as OSDP with Secure Channel Protocol (SCP) supports AES-128 encryption that is required in U.S. federal government applications. Additionally, OSDP constantly monitors wiring to protect against tampering, removing the guesswork since the encryption and authentication are predefined. 2) Bidirectional communication Early on, communication protocols such as Wiegand were unidirectional, with external card readers sending information one way to a centralized access control platform. OSDP has transformed the ability for information to be collected, shared, and acted upon with the addition of bidirectional communication for configuration, status monitoring, tampering, and malfunction detection, and other valuable functions. In fact, OSDP is the only open, non-proprietary, bidirectional, secure protocol for communication between card reader and physical access controller. 3) Open and interoperable OSDP adds new technology that enhances its ability to protect incoming and outgoing data collection OSDP supports IP communications and point-to-point serial interfaces, enabling customers to flexibly enhance system functionality as needs change and new threats emerge. They also can proactively add new technology that enhances their ability to protect incoming and outgoing data collection through a physical access control system. 4) Reduced installation costs OSDP's use of two wires (as compared to a potential of 11 wires with Wiegand) allows for multi-drop installation, supervised connections to indicate reader malfunctions, and scalability to connect more field devices. Daisy-chaining accommodates many readers connected to a single controller, eliminating the need to run home-run wiring for each reader, and the use of a four-conductor cable achieves up to 10x longer distances between reader and controller than Wiegand while also powering the reader and sending/receiving data. 5) User friendly OSDP gives credential holders greater ease of use, with audio and visual feedback such as coloured lights, audible beeps, and the ability to display alerts on the reader. For security administrators, managing and servicing OSDP-enabled readers also becomes increasingly convenient, as OSDP-enabled readers can be remotely configured from network-connected locations. Users can poll and query readers from a central location, eliminating the cost and time to physically visit and diagnose malfunctioning devices. Unlimited application enhancements OSDP streamlines installations and upgrades while saving organisations the expense of replacing readers OSDP supports advanced smartcard technology applications, including PKI/FICAM and biometrics, and other enhanced authentication protocols used in applications that require Federal Information Processing Standards (FIPS) compliance and interactive terminal capabilities. Audio-visual user feedback mechanisms provide a rich, user-centric access control environment. OSDP offers advantages for users, administrators, and integrators, alike. It adds security and real-world efficiencies, and its interoperability ensures that organisations can use systems from numerous manufacturers as they invest in infrastructure that maximises the protection of critical data. For our part, HID Global's range of HID Signo readers is OSDP verified, ensuring they offer the intended interoperability and security for secure bidirectional communication and provide an easy migration from Wiegand devices. In a campus environment, OSDP streamlines installations and upgrades while saving organisations the expense of replacing readers if a new access control solution is implemented. There are also service and maintenance benefits as OSDP encourages continuous monitoring of system uptime and allows for remote configuration of -- or upgrades to -- a reader. Cost savings upon system upgrade Integrators can also capitalise on the introduction of OSDP by encouraging open standards, which can, in turn, help them build new customer relationships and win more projects. Although upgrading to access control systems that adhere to OSDP standards is a significant initiative, the range of benefits outweighs the cost of upgrading. Increased security coupled with business efficiencies adds value for those administering the system and a high level of interoperability ensures users can deploy systems from numerous third-party manufacturers. Integrators who understand the benefits of OSDP can also help their customers support both current and future technology requirements. When a site's needs change, OSDP offers significant cost savings as the open functionality makes adding new devices easier and reduces the expense of requiring all readers to be replaced if a new solution is installed. Businesses and organisations transitioning to OSDP will also enhance value in terms of operational costs such as servicing and maintenance.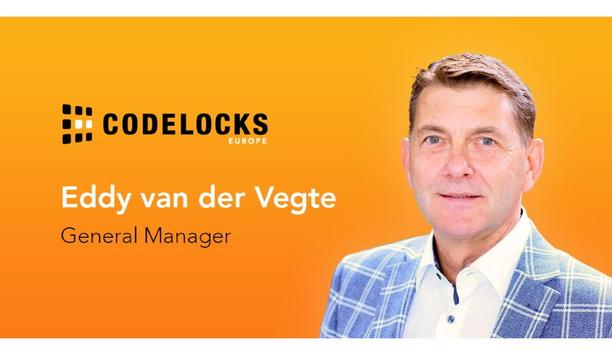 Codelocks announces expansion in Europe with the appointment of new General Manager, Eddy van der Vegte
Codelocks has appointed Eddy van der Vegte as the new General Manager of Codelocks EU, (CLEU). Eddy has over 15 years of experience in the door hardware and access control sector and will be challenged with continuing to develop the Codelocks brands, across the European Union (EU). Codelocks established CLEU to supply continental European customers, during the Brexit disruption. However, in order to fully promote Codelocks' expanding product portfolio and meet increasing customer demand, the company's long-term plan has always included significant investment. Expansion in Europe I'm confident he has the ability to develop Codelocks EU, in line with our ambitious expansion plans" Colin Campbell, the Managing Director of Codelocks, believes Eddy is the right person to head up the European team. He said, "Eddy's experience makes him perfect for this role. He has developed and set up numerous sales teams and business units in countries across Europe, during his career, building tremendous market knowledge and relationships with global access control partners in the process. I'm confident he has the ability to develop Codelocks EU, in line with our ambitious expansion plans." Commenting on his new appointment, Eddy van der Vegte said, "I am delighted to be joining a fast-growing global company. I believe that Codelocks has fantastic potential for growth in Europe and I'm looking forward to bringing Codelocks' advanced access control solutions to a wider audience." Vast knowledge of biometrics and access control products Eddy holds qualifications in Economics, Management and Marketing. He has trained in The Netherlands, California, Italy and Germany and has extensive knowledge of biometrics and access control products. Eddy speaks five European languages (including Dutch, English and German) and is starting to learn a sixth. In his spare time, he likes playing squash, mountain biking and hiking in Enschede, in The Netherlands, where he lives with his wife and three children.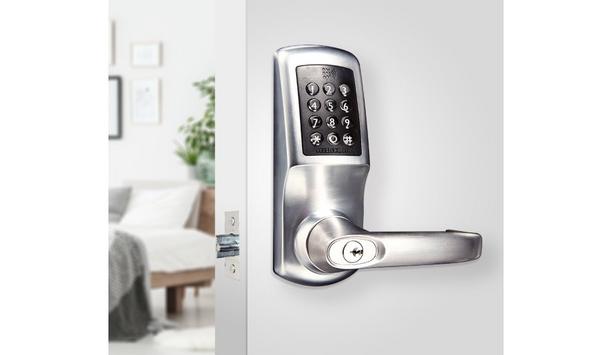 Codelocks provides CL5510 brushed steel smart lock to secure community cupboard at Crown Connects
Crown Connects in Inverness is on a mission to reduce waste and share surplus food, toiletries, and other essentials with local people who need them. The community group's volunteers collect supplies from food retailers, supermarkets, and households who wish to make a difference through their donations. These items are then stored in the community cupboard. To give residents the opportunity to access food supplies and other necessities conveniently, volunteers work hard to keep the community cupboard open from 8 am until 8 pm, seven days a week. Anyone who would like to choose items from the cupboard, or wishes to donate, is welcome to visit between those times. Accessing without volunteers However, maintaining these opening hours was putting added pressure on volunteers who were already out every evening collecting goods from supermarkets, restocking shelves, and cleaning the cupboard. Many volunteers are still busy at the cupboard until 10 at night. Crown Connects wanted to be able to leave the cupboard unmanned during opening hours The challenge was to find a way to ease the burden on volunteers. Crown Connects wanted to be able to leave the cupboard unmanned during opening hours so users could access it without volunteers having to be present all the time. To make this valuable resource available to everyone who needed it, Crown Connects decided to fit a coded lock to control access to the cupboard. Cupboard access door Bill Strachan, Senior Instructor at Crown Connects explains: "Although we created this initiative to reduce food waste, it's no secret that a lot of folks are finding it a huge financial help too. It is important to us to be able to allow anyone to access it without asking our dedicated group of volunteers to give up even more of their time." "We needed a lock with coded access functionality so we can allow users to unlock the cupboard door between certain times of the day. We also wanted to be able to override the lock if necessary." The community cupboard team selected the CL5510 brushed steel smart lock by Codelocks, which is now installed on the cupboard access door. "The Codelocks support was first class when it came to supplying and helping to set up the lock," says Bill. Supporting local residents Installing the new smart lock has transformed the way the community cupboard works "The smart lock works extremely well and allows us to control the times that people can access the cupboard, which is exactly what we needed. We are particularly impressed that the lock has the option of automatically adjusting to British Summertime when the clocks changed." Installing the new smart lock has transformed the way the community cupboard works. "The cupboard itself has a steady stream of visitors throughout the day," explains Bill. "It's great that the volunteers don't have to go and unlock the door every morning and again in the evening. Anyone who needs to use the cupboard is now given the code and they can access the stores any time during our opening hours. Having the smart lock in place has reduced the workload for our team, and our busy volunteers now have more time to keep the cupboard tidy and well stocked and spend supporting local residents."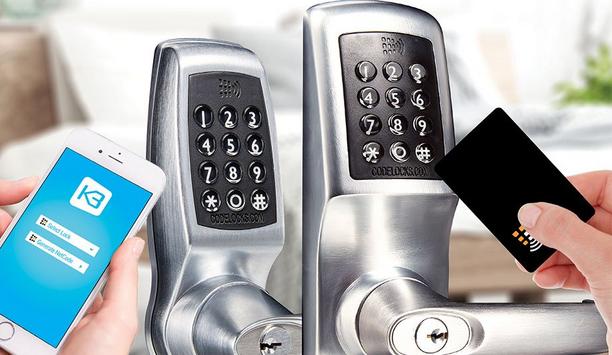 Antibacterial coatings open the door to a safe return to work
As the vaccine roll-out proceeds, people across the UK are counting the days until we can get back to some kind of 'new normal'. Just as we've seen in education and healthcare, the return to the workplace and other public spaces will be accompanied by enhanced sanitisation and social distancing measures. To make the return as swift and safe as possible, those of us involved with managing, building and constructing buildings should consider how we can help facilitate and support those measures. Regardless of how rigorously we impose social distancing measures, there will always be some areas where we can't help coming into contact with each other. Sanitising door handles Doors, for example – and door locks and handles in particular – are shared by nearly everyone in a building. Even in large, open spaces, we all need to pass through a single entrance. We all use the same door handles and locks – and they provide ideal surfaces for bacteria to breed and transfer. Another solution is for staff to regularly sanitise door handles and locks One solution to this problem is to provide hand-sanitiser dispensers at each door and insist on their use. But this can be difficult to manage in larger buildings where there may be multiple doors and entrances used by both staff and visitors. People could ignore the sanitisation rules too. Another solution is for staff to regularly sanitise door handles and locks – but this is a resource intensive option and, again, is dependent on everyone maintaining good practice. Potentially harmful chemicals A longer-lasting way to deal with the risk of locks and door handles spreading disease is to treat them with an anti-viral coating. These coatings come in various forms. Some, for example, slowly release anti-bacterial chemicals, while others have antiviral properties actually built into the material or the coating. Those coatings with built-in antiviral properties tend to be longer-lasting and more effective, and also avoid the issue of releasing potentially harmful chemicals into the environment. A number of different solutions with built-in protection are currently in development, and some already available. Northumbria University, for example (as reported in last Month's PSB Magazine), is working on a 'super-hydrophobic' coating for use on high-contact areas such as handrails and trolleys. Optional antiviral coating Codelocks is working on a coating that attaches biocides to nanoparticles Another British company, Smart Separations, is working on a coating that attaches biocides to nanoparticles, and can be applied to a wide variety of surfaces. While these anti-viral coatings are either still in development or only available to large corporate clients, others are already readily available. Access control solutions provider Codelocks, for example is currently offering an optional antiviral coating with all of its products. Clean by Codelocks is clear coating that uses nanotechnology that can kill bacteria in a matter of minutes. Clean by Codelocks utilises a process called photocatalytic oxidation. The surface of the coating reacts with light and converts harmful bacteria and germs into a non-toxic compound, resulting in a clean and hygienic surface. Chemical cleaning products The coating has been proven to eliminate the SARS-CoV-2 coronavirus (COVID-19) from surfaces within minutes and is resistant to chemical cleaning products, humidity, and UV exposure – all issues that can cause problems for traditional slow-release type coatings. It's been said that COVID-19 has been a great technology accelerator. This has been proven true, not only in the areas of vaccine research and development, or in cloud and digital technology but even in everyday objects that we take for granted such as locks and door handles. By building anti-bacterial protection into access control solutions, we can make schools, surgeries, workplaces, leisure centres and other public spaces safer for all.
Related white papers
Wireless Access Control eBook
How plate reader technology increases your perimeter security