Compare XNV-6012 with SNP-6201HN/HP
(2)
| | | |
| --- | --- | --- |
| | Hanwha Techwin America XNV-6012 | Hanwha Techwin America SNP-6201HN/HP |
| Chip Inch Size | 1/3 | 1/3 |
| Colour Type | Colour / Monochrome | Colour / Monochrome |
| Resolution TVL | 2MP | 2 MP |
| Sensitivity lux | 0.04 | 0.1 |
| Digital (DSP) | ✔ | ✔ |
| Indoor/Outdoor | Indoor/Outdoor | Indoor/Outdoor |
| Voltage | PoE | 24 V AC |
| Focal length | 2.4 mm | 4.45 ~ 89 |
| Compression | H.264, H.265, MJPEG | H.264, MPEG-4, MJPEG |
| Back Light Compensation | ✔ | ✔ |
| Auto Gain Control | ✔ | ✔ |
| White Balance | ✔ | ✔ |
| Electronic Shutter range | 2 ~ 1/12,000s | 1/30 ~ 1/33,000 sec |
| S/ N (Signal/ Noise) Ratio dB | 50 | 50 |
| Dome Type | -- | PTZ |
| Pan Speed o/ sec | -- | 0.024 ~ 120 |
| Tilt Speed o/ sec | -- | 0.024 ~ 120 |
| Rotation Angleso | -- | 360 |
| Presets | -- | 255 |
| Synchronisation | -- | External |
People also viewed these products


Featured security companies


Related Videos
Hikvision's HiWatch video surveillance solutions for small-to-medium sized enterprises
Hikvision smart mobile transportation solution secures vehicle and passengers Samsung and Securitec Systems deliver a high performance video surveillance system to APC Overnight
Securitec Systems Ltd has partnered with the professional security division of Samsung Techwin to provide a multipurpose Video Over IP solution for APC Overnight's new hub in Cannock. There was a time not that long ago when the only reason for a distribution centre to invest in CCTV was to deter and detect theft. The quality of the images captured by traditional industry standard analogue cameras, if positioned and set up correctly, could be relied on to verify and more often than not, help obtain a description of the person or a group of people who might be involved in any suspicious activity. The cameras would however rarely be expected to make a contribution beyond this narrow, albeit very important, task. With the introduction of affordable high definition megapixel cameras and the ability to control them over an IP network infrastructure, has come the opportunity for distribution centres to achieve considerably more from their investment in a video surveillance system. There can perhaps be no better example of this then at APC Overnight's new national sortation centre in Cannock, West Midlands. A Samsung Video Over IP solution, in addition to providing a powerful tool to minimise theft, is assisting operational personnel with tracking the movement every month of 1.5 million parcels, as well as ensuring strict compliance with the company's Health & Safety procedures. APC Overnight is the UK's largest next day delivery network with more than 115 local depots. The company has invested £16.5 million its new 138,000 sq.ft hub in Cannock in order to maintain its year-on-year growth by providing exceptional service levels underpinned by state-of-the-art technology. The construction of the new sortation centre provided APC Overnight with an opportunity to take full advantage of the superb images that can be captured by the latest generation of high definition megapixel cameras by deploying them in locations, where evidence grade images might be required or where there was a need, such as at conveyor belts and loading bay areas, to be able to zoom in to observe close up detail of any activity. "One of the key benefits of a Video over IP system is that it provides the option to control and monitor cameras from anywhere on the network," said Colin Dicken, APC Overnight's Security Manager. "This means that our on-site security personnel are not restricted to watching live images or reviewing recorded video from a central control room, whilst my operational colleagues can also simultaneously access the system from their PCs or laptops and if they are off site, even monitor activity from their tablets or smartphones." APC Overnight places considerable importance on being able to track individual packages that are processed at the Cannock hub. "We take great care to ensure that our customers' property arrives in good condition as well as on time," said Colin Dicken. "It is important therefore that we can identify every package as it passes though the sortation centre so that any complaints of lost or damaged parcels can be properly investigated. The high definition Samsung cameras play a key role in helping us achieve this by providing a visual record of how we carefully and accurately handle our customers' parcels from the moment they arrive in Cannock. This is achieved by tying in the video surveillance system with our bar code booking system." Over 124 Samsung cameras were installed at APC Overnight A total of 124 Samsung cameras have been installed by Cannock based Securitec Systems Ltd who were awarded the contract to install and commission a video surveillance that would ensure there were no blind spots both within the distribution centre and its surrounding area. "As is usual with a project of this kind, the research and design stages are very important," said Martin Kadir of Securitec Systems who are a certified Samsung Smart Partner. "We spent considerable time deciding on what type of cameras to recommend. We had of course to take into account what the objective was at each specified camera location, as well as the likely environmental and lighting conditions, as some of the cameras would be deployed to monitor external areas." 61 of the specified cameras are from the Samsung LiteNet 'affordable' network camera series. 36 of these are SND-7061 3 megapixel Full HD network dome cameras and 25 are SND-5061 1.3 megapixel network dome cameras. Both models are equipped with 3~8mm varifocal lens and share a long list of features including four programmable Motion Detection zones, 12 programmable Privacy Zones and PoE (Power over Ethernet). The new models also have a Day/Night feature which automatically configures the camera to capture either colour or B/W images depending on the prevailing lighting conditions, and also incorporate a scene change tampering feature which creates an alert if, for example, paint is sprayed on a camera lens or if there is unauthorised movement of a camera away from its usual field of view. These ONVIF compliant models also support H.264 and MJPEG compression methods, providing the option to simultaneously transmit images to multiple locations at various frame rates. The remainder of the 124 cameras are a mixture of fixed cameras and PTZ domes, each carefully selected for the specific location at which they are installed in order that the video surveillance system meets APC Overnight's expectations. The images captured by all the cameras are recorded onto Samsung network video recorders with operators able to view both live and recorded video with the help of Samsung Security Manager license-free video surveillance management software. Samsung's professional security products are widely accessible across Europe via an extensive network of distributors. For further information please email STEsecurity@samsung.com or telephone +44 (0)1932 82 6700 or visit www.samsungsecurity.com.

Samsung Techwin's IP network video surveillance system secures childcare centre in Croydon, Surrey
One of England's oldest childcare centres has invested in an IP network based video surveillance system manufactured by Samsung Techwin, to create a safe and secure environment for its staff and children. Gingerbread Corner, which is located in Croydon, Surrey, was England's first latchkey scheme. It was established in 1976 with the objective of providing quality childcare for single parents of children aged between 5-11 after school and during school holidays. 37 years later, Gingerbread Corner has evolved and grown. It now provides year-round child-care for more than 160 children between the ages of 3 months and 11 years. An existing outdated analogue CCTV system needed to be replaced. Apart from the fact that there were just four cameras which only allowed the monitoring of entrances and exits, the quality of the images captured and recorded were not of sufficient quality to be of any practical use if and when an incident needed to be investigated. As a registered Charity, Gingerbread Corner relies heavily on its fund-raising activities to maintain and improve its facilities, as well as employing 40 members of staff. Despite concerns over significant funding gaps following the Government's Comprehensive Spending Review, Gingerbread Corner's management were determined to allocate sufficient capital for the installation of an effective replacement video surveillance system. "There are so many potential situations where access to high quality video evidence can help protect the children in our care and also verify that our staff has at all times professionally carried out their duties," said Ben Dzendzera, Gingerbread Corner's Operations Manager. "For example, with so many children living in single parent environments, we can avoid any disputes by being able to monitor, and if necessary verify, who has collected a child from our premises. Equally important, we can quickly resolve any issues which might arise through accusations of one child bullying another and we have a duty of care towards our staff to ensure they can be protected against any false accusations." Ben invited a number of different companies to recommend a solution that would meet both Gingerbread Corner's current and future needs. "It was clear that we immediately needed approximately 20 cameras in order to be able to monitor all activity throughout the site, but we also wanted to ensure that the system we invested in could continue to be expanded if and when our requirements changed." Some of the quotations received provided for the new system to be analogue based, but Ben and his colleagues decided to take the advice offered by video surveillance and public address specialists Postfield Systems, who recommended that Gingerbread Corner should choose an IP network based system. The cameras offer multiple streaming with a choice of compression methods An analogue system would have provided Gingerbread Corner with a slightly lower cost option, but the justification for allocating the extra capital for an IP network based system was easily made. "One of the key advantages of choosing a Video over IP solution is that it is very flexible in terms of how it can be monitored," said Ben. "Live or recorded images can be viewed by any authorised member of staff who has access to the Internet. I personally use the Samsung Techwin's Net-i Viewer software on my laptop to view the video of any incidents, whilst senior management can access the system via smartphone when they are off site." A total of 21 Samsung Techwin cameras have been installed, 16 of which are SND-3082 Day/Night network domes. These utilise Wide Dynamic Range (WDR) technology making them ideal for locations where there may be strong contrasting lighting conditions. The SND-3082 features Power over Ethernet (PoE) which means that both power and video/audio transmissions can be provided via a single Ethernet cable connected to Gingerbread Corner's network. This has resulted in costs being kept to a minimum as there wasn't a need for coaxial cable to be run to each of the 21 cameras. The five other cameras are Samsung Techwin SNO-1080Rs which are weatherproof cameras, have built in IR lighting and feature PoE. The SNO-1080R is part of a range of cameras which was designed to provide a cost effective network video surveillance solution for small to medium size applications. Both models offer multiple streaming with a choice of compression methods, providing the option to simultaneously transmit images to multiple locations at various frame rates and at different resolutions. This allows different authorised users to monitor live images at one location, whilst recording video evidence at another. The images from all of the cameras are recorded on one of two SRN-1670D network video recorders which have been designed to be user friendly in that they have the look and familiarity of a DVR. "As a non-profit organisation it is difficult to show a return on investment, but there is no doubt that the video surveillance system has given us peace of mind in knowing that if any serious incident takes place we can verify exactly what has happened by being able to retrieve the recorded video."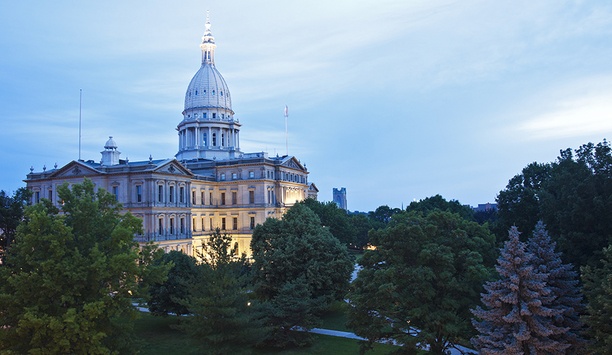 Samsung video surveillance system improves safety for the Silver Bells Parade in Michigan
Each year in Lansing, Michigan, the holiday season unofficially begins with the Silver Bells Parade. This year, 80,000 people crowded the streets of Lansing on November 22 to see the hour-long parade, which ends in front of the Michigan State Capitol building with a traditional tree lighting ceremony. The crowd shouts along with the countdown from ten, the grand marshals throw a giant ornamental switch, and the tree lights are brilliantly illuminated while a giant fireworks display lights the sky. This year, the parade was made safer and more secure by the presence of a newly upgraded video surveillance system featuring Samsung IP cameras at the Michigan State Capitol, a fully operational building which is also a National Historical Landmark maintained by the Facility Department. "We determined that we needed additional views in order to increase security at the Capitol," said Steve Benkovsky, Director of the Legislative Council Facilities Agency for the State of Michigan. "Beyond that, we wanted to improve our ability to identify individuals in video." Detroit-based security integrator Camtronics has a long history with the state of Michigan, having handled the original video deployment at the Capitol four years earlier. The company also worked with the Metro Airport, designing systems for their operation, along with the Governor's residence during the Grantholm Administration. Their long-standing relationship was a prime reason for the selection of Camtronics as integrator for the Lansing Tree Lighting project. Because the Capitol building is a National Historical Landmark, adding security cameras to it is a very sensitive issue, according to Mark Wellman, President of Camtronics. It is important that any additions, such as the mounting of security cameras, be planned and executed in a way that will preserve the historical appearance of the building. Compounding the challenges, the building's illumination was designed with spotlighting to enhance the historic appeal of the building – which makes it less than ideal for identification of individuals at night in a security application. "We provided all of the technical expertise for systems requirements and coverage, and helped the team at the state capital by recommending solutions that could easily be worked in to certain types of architecture," said Mr. Wellman. "At the same time, we made sure that nothing compromised the view they needed or the video recording they expected out of these cameras and their positions." Samsung IP cameras were Camtronics' recommendation for the deployment, rather than continuing to utilise cameras from the manufacturer which had been used for the original video surveillance system at the building. According to Mr. Wellman, the switch was made primarily for the superior image quality delivered by the Samsung cameras. The switch to Samsung IP cameras were made due to its superior image quality "There was a high expectation for performance on these cameras," said Mr. Wellman. "The capital and state police had very specific criteria that they were looking to fulfil, such as the ability to see at night and to clearly identify faces – especially because the lighting was designed to enhance the historic appeal of the building. So essentially, we needed cameras that could still provide us clear images and good detail and resolution of people in the crowd in spite of the fact that it had to contend with monument style lighting around the building." One year earlier, a third manufacturer's IP cameras had been put up temporarily at the building for a specific event. Mr. Wellman relates that according reports, detail was so obscured by the cameras' inability to handle that type of lighting in the darkness, the video was rendered useless. "They weren't able to make out faces or details of anyone in the crowd," said Mr. Wellman. "There was nothing but glare from the lights. The video quality from the Samsung cameras did not have that problem. "In one instance, there is a camera looking right at one of the ornate light fixtures, and you can still clearly read the sign 20 feet behind it on the ground," said Mr. Wellman. In fact, out of the cameras that we have installed and looked at to potentially install, we are moving closer and closer to making Samsung our proprietary line." The temporary cameras were taken down after the event, and the current cameras in place on the Capitol building will be replaced in time by Samsung cameras as well. Camtronics installed new Samsung cameras including five SND-5010s, four SND-5080s and five SNP-6200Hs on one of the Capitol building's balcony areas, maintaining Ethernet. The only analogue units remaining are the original cameras, which work through an encoder. Several of the cameras mounted on the building's exterior utilise fibre and media converters to accommodate IP communications from all the new Samsung cameras back to the head end for distance and environmental concerns including water leakage, chemicals, etc., said Mr. Wellman. "That's why we suggested putting fibre in and all of that comes back across media converters to their main switch which was provided by the capital – we provided the server with expandable storage and the VMS platform." The cameras provide coverage on the east side of the building to view rallies and events on the front lawn. The installation has numerous unique qualities. The sandstone exterior of the 143-year old state capitol building is original, requiring great care in mounting each camera. The on-site team – including Mark McEwan, Maintenance Mechanic, Bob McDonald, Assistant Facility Manager and Mr. Benkovsky – made each mount by hand. "There was a lot of personal effort and soul put in to making those mounts," said Mr. Wellman. "In some cases, the gentlemen that made them were taking them home at night and crafting them in their garages." The sandstone exterior of the 143-year old state capitol building is original, requiring great care in mounting each camera Mr. Wellman explains further: "There was a need to make the cameras swivel upward so they would be easy to maintain. They also wanted to have them anchored to the existing light brackets so there wouldn't be any need for holes to be put in to the building. So if the cameras ever had to be removed, there would be only small holes that could easily be filled in with grout. The mount had to go out through the railing of the balcony, drop down so it would be hidden a little bit and then go over to the corner of the building and be able to be picked up without hitting the pillars of the next balcony." Mr. McEwan designed the mount that made this possible, using a 1 ½ inch thick, 10 foot long galvanised pipe that had enough weight to hold the cameras up and maintain its position even in windy conditions. In addition, in designing the mounts it was important to consider how the cameras could be serviced if needed. With that in mind, Mr. McEwen created a leverage bar that could raise a section of the mount back up. In addition, he added a bracket and a footing to the mount so that the camera could rest on the mount without having to lay directly on the rail and without running the risk of hitting the sandstone. This section was made of a stainless steel rod and a rubber hose. Finally, in order to ensure that the mounts do not move, the joints were brazed. The final step in completing the creation of these mounts was for their decorative painter to mix the precise paint colour that would blend into the design and décor of the historical sandstone building. According to Mr. Wellman, the final result not only met but exceeded expectations. "The installation, which was a collaborative venture, was rewarding for all parties involved," he said. For the Silver Bells Parade, they had images which were "outstanding and crisp," with good views even during the night lighting around the Capitol. In all, it was a holiday gift of improved security that will keep giving in the future.
Featured white papers
5 steps to finding the right access control system for you
Download
Why outdated access control systems are a big problem
Download
Five things to consider for AI with video technology
Download